Hollande and Merkel: Odd Couple or Soulmates?
President-elect Hollande may prove more flexible than expected in dealing with Merkel
By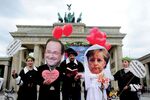 Frenchmen stormed the Bastille the night Socialist François Hollande was elected president of France. Celebrating victory with fireworks and red flares in Paris's Place de la Bastille—the ignition point of the French Revolution in 1789—seemed appropriate given Hollande's attention-getting platform. During his campaign, Hollande promised to raise the top income tax rate to 75 percent, impose a levy on financial transactions, raise public spending, roll back an increase in the retirement age, and stand up to German Chancellor Angela Merkel by getting Europe to focus more on growth and less on austerity. "Thank you, people of France," Hollande told the roaring crowd in the wee hours of May 7. "I am president of the youth of France … I am president of justice in France."
But Hollande, 57, who will be inaugurated on May 15, is far from a Jacobin revolutionary. He's a mild-mannered technocrat who was trained for the civil service at the elite École Nationale d'Administration. He's likely to move slowly on the populist promises he made during the campaign and govern from the center, judging from his history and the predictions of his more middle-of-the-road supporters.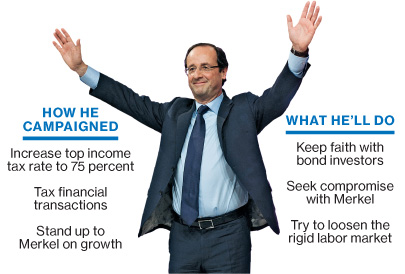 For Hollande, a tack back to the center will be partly by choice (his nickname is Mr. Normal) and partly by circumstance: Simply put, France's financial situation is too precarious to permit Hollande to ignore deficits and risk a rupture with Germany. At 5.2 percent last year, France's government deficit as a share of the economy is bigger than that of Portugal or Italy, two nations that have already begun to lose the confidence of bond investors.
Hollande will be forced to do more or less what Nicolas Sarkozy has done: appease the financial markets by controlling government spending, while making nice with Merkel, Europe's paymaster. He may head France's Socialist Party, but "there is not a chance in the world that Hollande would try to implement old-fashioned socialism in France," says Thomas Philippon, a French citizen and adviser to the Hollande campaign who is an economist at New York University's Stern School of Business.
Judging from the financial markets' calm reaction to Hollande's election, investors have already concluded that he won't imperil France's credit rating, which was lowered by Standard & Poor's in January to AA+ from AAA. Yields on 10-year French debt are closer to Germany's now than they were at the turn of the year, when Sarkozy was still considered likely to win reelection. The extra yield that investors demand to hold French debt was 1.19 percentage points on May 7, a bit less than the 1.31 percentage points on the last day of December. Plus ça change, plus c'est la même chose.
Campaign rhetoric aside, when it comes to deficit reduction there's not a lot of difference between Sarkozy's platform and Hollande's. Sarkozy aimed to balance France's national budget in 2016; Hollande's target is 2017. Sarkozy would have cut the ratio of government spending to gross domestic product by 4 percentage points over five years; Hollande's goal is 3.5 percentage points over five years, says Philippon. (Whether either man's budget targets are realistic is a separate question.)
Hollande may even make France a closer partner with Germany. Despite their political differences, Merkel and Hollande have similarly deliberative temperaments. Sarkozy, in contrast, is blustery and volatile. "Hollande will be 100 percent more reliable for Merkel than Sarkozy was," says Carl Graf von Hohenthal, a management adviser at the Brunswick Group in Berlin. "Both are pragmatists," says Volker Perthes, head of the Berlin-based German Institute for International and Security Affairs, which advises the government. "They will find consensus."
Merkel is aware that Hollande, for political purposes, needs to keep up his tough talk until after France's legislative elections in June, says Mark Hallerberg, director of the Fiscal Governance Centre at the Hertie School of Governance in Berlin. She called Hollande after his victory and invited him for talks in Berlin as soon as possible, saying that he "will be received in Germany with open arms."
One area of potential agreement is the need to boost funding for the European Investment Bank, which finances infrastructure projects. That won't be enough to sustain Europe's weaker economies, says Fredrik Erixon, director and co-founder of the European Centre for International Political Economy in Brussels. But it will provide some relief.
There are, of course, serious and unbridgeable differences between Hollande and Merkel. He will continue to argue for a greater emphasis on growth in Europe, joint bond issuance to buoy the weaker countries, and easier monetary policy from the European Central Bank. She will hold out for compliance with the recently concluded fiscal compact, which requires countries to balance their federal budgets or face fines from the European Court of Justice. The tensions will heighten if the capital flight into Germany continues, leaving other countries coping with recession while Germany experiences super-low interest rates and a fear of overheating. In early May, Germany demonstrated how insulated it has been from the rest of the Continent's travails, reporting stronger-than-expected March factory orders, industrial production, and export figures.
In the long run, France's best hope is to regain competitiveness with Germany. And the best way to do that is by fixing its dysfunctional labor market, which inhibits growth. Protections against firing are so strong that companies are afraid to hire workers, not knowing if they will be able to ditch them if necessary. Sarkozy tried to break down those barriers and failed, in part because he needlessly antagonized French labor unions, says NYU's Philippon. As a Socialist, Hollande might have a better shot at getting buy-in from labor, just as it took Social Democrat Gerhard Schröder to fix Germany's sclerotic social welfare system as chancellor from 1998 to 2005. "Maybe," says Philippon, "it takes a leftist to do it."
— With assistance by Leon Mangasarian, and Tony Czuczka
BOTTOM LINE -
The bottom line: Although France's new president opposes Germany's austerity policy, he will have to find a way to work with Chancellor Merkel.
Before it's here, it's on the Bloomberg Terminal.
LEARN MORE