Hasbro Board Games Go to the Movies
Hasbro's Battleship and Candy Land are coming to the big screen
by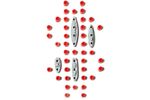 Many of today's kids would rather slice and dice flying fruit on an iPhone than sit around a game board racing each other to buy Park Place. Brian Goldner, chief executive officer of Hasbro is betting he can revive old-fashioned games by hooking up with Hollywood. Battleship, a Universal Pictures film loosely based on the 69-year-old game of naval strategy, will dock at U.S. theaters on May 18. The movie, starring Liam Neeson and pop singer Rihanna, is a love story (not between the two of them) set against the backdrop of a seaborne alien invasion. While the screenplay may not win many accolades, Battleship has sold more than $200 million worth of tickets in Europe and Asia, where it premiered last month. Under its deal with Universal, the world's No. 2 toymaker will get about 5 percent of Battleship ticket sales once the studio has recouped production costs.
Yet the real question for Hasbro, according to UBS analyst Rob Carroll, is whether success at the box office will transform Battleship into a franchise, with a range of products that includes video games, apparel, and action figures. Goldner is counting on it, and is working to bring other games to the big screen, including Candy Land, starring Adam Sandler, and Monopoly, directed by Ridley Scott.

Hasbro is overhauling its games division by focusing on a few titles deemed to have the most potential and building entertainment franchises around them. Sales at the unit, which contributed 27 percent of the company's $4.3 billion in annual revenue in 2011, slipped 9 percent in the most recent quarter.
Goldner, who worked at toymaker Bandai America before joining Hasbro in 2000, witnessed firsthand how a TV series and feature films turned Power Rangers into a global phenomenon. He used a similar blueprint to restore Hasbro to profitability after the company fell into a funk in the early aughts. Dependent at the time on licensing others' brands such as Star Wars, Hasbro was losing money and lacked the wherewithal to innovate.
Two years into his job at Hasbro, Goldner pitched a live-action Transformers movie to the studios. "People kept telling me it wouldn't work," he recalls. The trilogy has grossed more than $3 billion globally and generated $1.6 billion in merchandise revenue for the company. Last year, Transformer sales reached $483 million—almost 16 times 2005's haul.
One reason the games division has struggled is that Hasbro was slow to digitize many of its classic titles, says Sean McGowan, an analyst for Needham. That created an opening for upstarts such as Zynga, whose stock market valuation is now $1 billion higher than that of 89-year-old Hasbro. By charging just a couple of dollars for popular mobile games such as Scrabble clone Words With Friends, Zynga and other app developers have accustomed consumers to paying next to nothing for games. "Competing against that is tough," says McGowan.
To help promote the new movie, Hasbro has turned Battleship into a free Facebook game. Digital versions of Monopoly, Scrabble, and other of the company's properties can also be purchased through Apple's App Store, thanks to a deal Hasbro has with video game maker Electronic Arts, while a new version of another classic, The Game of Life, represents a compromise of sorts: Players use an iPad to spin the wheel, get paid, and sue other players, but they still move their cars on a physical game board.
Goldner has moved on to other games. Movies based on Risk, Ouija board, and Clue (which was turned into a movie for the first time in 1985, when the game was owned by Parker Brothers) are also in development. "I'm not sure Hungry Hungry Hippos is a movie," says Goldner of the game in which plastic hippopotamus heads gobble up marbles. Then again, "I've heard a good pitch on Hungry Hungry Hippos."
Before it's here, it's on the Bloomberg Terminal.
LEARN MORE