Facebook Admits It Doesn't Know How Mobile Works
Mathew Ingram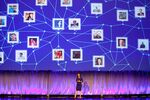 As Facebook moves inexorably toward its much-anticipated initial public offering, attention has been focused on all kinds of things about the giant network with the $100 billion potential market valuation—including the earth-shattering fact that Chief Executive Officer Mark Zuckerberg insists on wearing a hoodie during his meetings with Wall Street bankers and analysts. But what investors should be more focused on is the problem Facebook highlights in the most recent amendment to its S-1 securities filing: namely, that its mobile business is noticeably light on advertising revenue and that the company isn't exactly sure how (or whether) it can fix that.
It's worth noting that the latest amendment isn't the first time Facebook has mentioned that mobile could be its kryptonite. My colleague Kevin Fitchard wrote about a similar warning earlier this year, in which Facebook said it expected the rate of growth in MAU (monthly average users) of its mobile products "will continue to exceed the growth rate of our overall MAUs for the foreseeable future" but added that the company didn't "directly generate any meaningful revenue from the use of Facebook mobile products, and our ability to do so successfully is unproven."
So if it had already flagged the mobile business as a potential weak spot, why has Facebook changed the language around its mobile aspirations yet again in this latest S-1 update? It appears the update is designed to clarify that this mobile ad-revenue gap is at least partly to blame for the weak advertising numbers the social network posted for the first quarter and that it is going to affect the second quarter as well. While Facebook initially said the weakness in the first quarter was a result of "seasonal effects" in the advertising business in general, it now says:
We believe this increased usage of Facebook on mobile devices has contributed to the recent trend of our daily active users (DAUs) increasing more rapidly than the increase in the number of ads delivered.
The revised S-1 notes that Facebook started to include its "sponsored stories" ad product in users' mobile news feeds in March but adds that currently it doesn't generate any significant revenue from Facebook mobile products. That statement is standard boilerplate language for an IPO prospectus, but it is also a key part of the Facebook revenue growth story, if there is one. The company says almost half a billion users accessed the site from a mobile device in March: If it doesn't figure out how to monetize these users efficiently, Facebook will have a serious problem.
The new language in the prospectus also hints at another aspect of the problem: The mobile environment is substantially different from a desktop one, and the decisions that make sense for the regular version of Facebook—particularly when it comes to ads, page views, etc.—don't necessarily apply to the mobile version. As the S-1 explains why the number of daily active users has increased faster than the number of ads:
[T]his trend is driven in part by increased usage of Facebook on mobile devices where we have only recently begun showing an immaterial number of sponsored stories in News Feed, and in part due to certain pages having fewer ads per page as a result of product decisions.
Those product decisions are crucial for the mobile version of Facebook, which has already been criticized by many users as cluttered-looking and cumbersome to navigate. More than one critic has argued that the mobile app Path—developed by a company co-founded by former Facebook staffer Dave Morin—is a far better mobile social network than Facebook, at least when it comes to design and usability. Of course, Path doesn't have any ads at all, so such reviews can be expected. Facebook doesn't have that luxury.
The mobile dilemma is also part of a much broader issue Facebook has to deal with, which is the fairly lackluster performance of its advertising in general—including click-through rates that are substantially lower than the already dismal industry average, and reviews from ad agencies and marketing firms that are underwhelming at best. If it is going to justify a $100 billion market valuation for any length of time, Facebook is going to have to do better than that, and quickly.
In a recent Forbes column, Eric Jackson argued that Facebook (and also Google) is in danger of disappearing in five years if it doesn't manage to figure out mobile. That prediction might be a little over the top, but there is no question the mobile market is crucial to Facebook's success: It already has half a billion users accessing the site via mobile devices, and even if those users also use the desktop version, that number is likely to continue to increase rapidly. The company has to come up with a way to monetize this demographic in a hurry. Will sponsored stories be the solution? No one knows for sure.
Also from GigaOM:
Facebook's IPO Filing: The Opening Shot Heard Round the World (subscription required)
Google Puts a Price Tag on Cloud SQL Services
Farmeron Puts Big Data to Work Down on the Farm
T-Mobile Grows But Its Lack of iPhone Is Still a Problem
Lessons Learned From an Entrepreneur Electrifying Rural India
Before it's here, it's on the Bloomberg Terminal.
LEARN MORE