Extreme Test Drive
Luxury brands lure customers by offering fantasy experiences behind the wheel
Brett Berk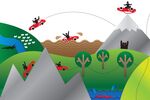 So I'm driving a Range Rover on a scenic mountain road outside Asheville, N.C., when my passenger instructs me to take a left, into the woods. I'm understandably nervous: While Land Rovers are historically associated with butch adventure—Hemingway on safari, for instance—they're rarely used to traverse terrain more treacherous than the Neiman Marcus parking lot. But my passenger is insistent in a way that betrays his military training, so I follow his orders and hang a Louie into a deep puddle. He instructs me to work with gravity and let the car find its "low point." I ask if there's a risk of drowning. My passenger reassures me: "The doors and windows are all double sealed."
At the Land Rover Experience Driving Schools, you don't learn how to parallel park. Pushing the vehicles to their limits—or rather showing how few limits they have—is the order of the day. The brand hosts three such programs year-round on the grounds of American resorts: the Biltmore Estate in Asheville; the Quail Lodge in Carmel, Calif.; and the Equinox in Manchester Village, Vt. You don't have to be a guest to take part: For $250 per hour (or $1,200 for a full day) you can hop into a $90,000 luxury truck and learn how to drive through mud, gravel, ruts, and streams, just like those stunts in TV ads the fine print warns you not to attempt.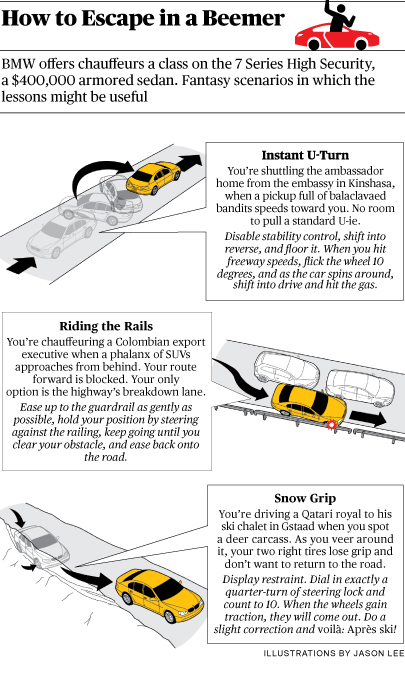 Land Rover's an old hand at off-road driving schools, having run such classes since the 1970s, but it has a ton of new competition among luxury automakers. Cadillac invites thousands of prospective customers to half-day driving programs in their V-series performance cars. Mercedes is trying to reverse the trend of teens forgoing a driver's license by launching the first manufacturer-owned, state-certified driving school in Los Angeles. Here, every test car features a three-pointed star, and enrollees are eligible for discounts of up to $4,000 off their first Benz. BMW hosts advanced performance-driving classes for potential M-car buyers on the spirals, horseshoe bends, and climbing esses of Virginia International Raceway. Though these programs are educational and provide direct instruction, they're primarily exercises in branding and marketing.
"It's a lot easier to convince somebody that the vehicle they're riding in is quite nice if they're actually driving it, vs. looking at it in a magazine," says Aaron Bragman, senior auto industry analyst at IHS Automotive in Detroit. "That ability to get that personal selling time with a customer is extremely valuable to a manufacturer."
Given the capabilities of contemporary cars, showcasing their attributes often means placing consumers in situations they would never ordinarily encounter, using features they will never need. Porsche, for example, is constructing a state-of-the-art driving facility in Southern California that features 45-degree off-road inclines and something called a simulated ice hill. And with the recent introduction of Ferrari's first all-wheel-drive vehicle—the four-seat, $300,000 FF—the brand offered its first winter driving program. Dedicated to wringing out power on frozen surfaces, the $11,000, two-night course took place in February in Aspen.
To be most effective in swaying purchase decisions, this kind of brand immersion needs to be directed at the right consumers: people who match the manufacturers' targets in terms of age, income, marital status, lifestyle, and geographic location. Invitations must also arrive at the right time. "Each manufacturer has their own secret sauce—an algorithm they use to create invite lists," says Alexander Edwards, president of auto industry research and consulting firm Strategic Vision. "They will send ninjas if I reveal anything."
According to Edwards, these driving school programs work best if they're deployed during what he calls "final consideration." This is "the last piece of the decision-making process—the last 30 days—when a consumer is comparing two or three vehicles."
Though manufacturers often bear some of the cost for their specialty courses, industry representatives place great faith in them. Porsche spokesman Dave Engelman says that the German brand's more "progressive" dealers will often split the cost of Porsche's driving classes with fence-sitting clients to help sway their decisions. Cadillac says this year's V-Series program more than paid for itself. And Ferrari's internal analysis shows that when patrons of their driving schools do place an order for a Ferrari, they're likely to order more pricey options than nonparticipants and to remain more loyal to the brand.
Natascha Wolber, Land Rover's general manager of event management, says that among non-owners who take part in the resort-based Experience Driving Schools, the brand sees "a conversion rate of about 2 to 3 percent," which the company considers high. "Consumers are just blown away by the exercises they go through," Wolber says. "That helps bring the vehicle to life."
Now that nearly all luxe car companies have developed their own driving-experience programs, those seeking to differentiate their brands are having to offer ever more extravagant courses. Bentley and Mercedes both hosted instructional ice driving events near the Arctic Circle this winter. BMW held invitation-only "Training for Professionals" programs in Berlin to sway the expert chauffeurs who drive dignitaries in armored vehicles (below). And near-luxury marque Buick held consumer drive events that revolved bizarrely around synergies with celebrity chef Michael Psilakis. "With all the marketing efforts out there, all the advertising messages, it's about trying to make your message heard," IHS's Bragman says. "It's about shouting into the hurricane."
Before it's here, it's on the Bloomberg Terminal.
LEARN MORE