Debit Overdraft Fees Still Confound Consumers, Survey Finds
By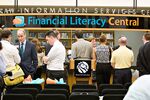 Two years ago, regulators imposed new rules to curb the fees banks charge consumers for covering overdrafts on debit cards. That was the idea, at least, but it hasn't quite worked out as planned. A survey of more than 6,000 people from the Pew Center on the States found that consumers are still hit by fees that can be as high as $35 a pop. Pew found that nearly one in five people incurred an overdraft fee last year, nearly all of whom said they overdrew their account by mistake.
Those fees add up to big business for banks—an estimated $16 billion in ATM and debit card overdraft fees last year, just a 16 percent drop from the peak in 2009, according to Moebs Services, a banking consultancy in suburban Chicago.
The Federal Reserve's reforms required banks to charge fees only to customers who "opted-in" to the overdraft programs. They launched aggressive—and at times alarmist—marketing campaigns telling consumers that if they didn't sign up, their card might be rejected when they most need it. The Pew study shows that consumers didn't understand what they were signing up for. Now more than half of overdrafters didn't recall signing up for the coverage at all, and a third said they didn't know their bank had an overdraft program until they were charged a fee.
Banks often say that consumers want to be able to overdraft their accounts in a pinch, but the Pew study found that three-quarters of overdrafters would rather have their transactions denied than processed and charged a fee for the service. The costs particularly hit the young and poor. Pew found that people under 44 are twice as likely to incur overdraft fees than older folks. Consumers who make less than $30,000 a year are also twice as likely to have the fees.
That consumers are confused fits with findings of an earlier survey by the Center for Responsible Lending. That study found: "Sixty percent of consumers who chose overdraft protection did so in part to avoid penalties if their debit cards were denied, even though such fees don't exist. Similarly, two-thirds said they signed up to sidestep charges for bounced checks, which actually are covered under different programs."
In February, the Consumer Financial Protection Bureau announced plans to look into overdraft fees, and in particular how banks marketed the programs to customers. They'll try to see if the reforms went far enough.
Before it's here, it's on the Bloomberg Terminal.
LEARN MORE