Britain's Surprise Shopaholics: Nigerians
Visitors from the African oil giant outspend Americans in the U.K.
By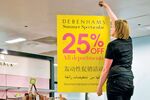 Nigerian businessman Godwin Patrick took a three-week holiday to the U.K. this month to visit cousins. It wasn't the only reason. "I'm here to shop," the 38-year-old says as he strolls down London's Oxford Street, clutching bags from Marks & Spencer and Associated British Foods' Primark containing trousers for himself and dresses for his family in Lagos.