Behind Europe's Workday Club Craze
Arrive at noon, dance for an hour, change shirts, and return to your desk. Behind Europe's workday club craze
By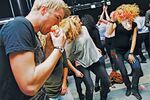 Anna Korsgren is excited about her lunch break. A blonde with dark eyes and hot pink lipstick, she works at a Stockholm brand communications agency called Dirty Butterfly, in a black-walled basement office. "I've always been a party girl," she says. Luckily, she can now party—or at least dance—between client meetings and presentation slides, thanks to the monthly "Lunch Beat" events that have surged in popularity across Sweden. In the past few months, this daytime, hour-long nightclub has spread to a dozen cities in the rest of Europe, including Vienna, Hamburg, Amsterdam, and Manchester. The originators of Lunch Beat encourage those who hear about it online to launch their own franchises, and there are plans to export it to Houston, Los Angeles, and New York.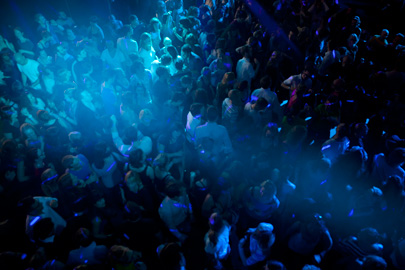 Setting up a Lunch Beat franchise in a new city is simple, according to Lunch Beat's Stockholm organizer, Daniel Odelstad. All producers need to do is find a large space that's unused in the middle of the day, set up a sound system, invite people, charge a nominal fee to cover costs—in Sweden, entrance runs 100 kroner, or about $13—and wait for them to dance. "It started in a garage around the corner two years ago," the mustachioed Odelstad explains, "and it took nearly a year till we got a big attendance."
At his last event, on a Tuesday in April, Odelstad was expecting a record number of attendees—as reflected in his choice of venue. The Kulturhuset is a Stockholm landmark, a cultural center that at one point played host to the country's Parliament. The large glass and steel facade is sandwiched between the headquarters of SEB, Scandinavia's largest corporate bank, and Swedbank, a regional retail banking giant, in the heart of the city's shopping and business center. On the ground floor, thick black curtains block out the daylight, and a couple dozen disco lights illuminate the room.
At one end of the stage, Petter Karlsson squats over his laptop, setting up a live video stream to a sister Lunch Beat event in Malmö, 400 miles south. He's concerned he'll be too busy with the streaming software to dance himself, but since the streaming will be free-to-view, there is some consolation in knowing that his efforts will mean "anybody else in the world can dance along."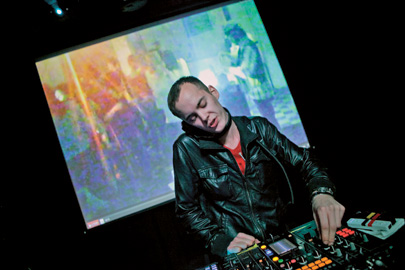 Yards away on the stage, 24-year-old DJ Johannes Drakenberg—his last name translates as "Dragon Mountain"—is doing the sound check. He picks up two brick-shaped white devices. "I've reverse-hacked these Nintendo Wii remotes," he explains. "When I wave my hand like this," Drakenberg says, rotating his right hand clockwise. The thumping bass grows deeper. "I can control one level of the sound. But if for instance I rotate my arm like this," he says, rotating anti-clockwise at the elbow, while the sound swells and the syncopation grows more intricate, "then I'm just adding the reverb."
As noon approaches and a crowd gathers outside, several Lunch Beat volunteers take up positions at "sandwich points," where hundreds of mozzarella, pesto, arugula, and tomato baguettes are piled high. Others stand behind a bar on which stacks of plastic cups and dozens of glass water jugs are laid out. A couple more are manning counters near the entrance and, as the doors open, proffer tickets.
A group of excited wheelchair users is among the early arrivals, and the line that stretches behind them includes elegant fortysomething women in scarves, young blondes in skinny jeans, stubbled hipsters, and a balding man in a charcoal gray suit. A copy of Lunch Beat's Fight Club–style "Manifesto" is taped to the glass doorway. Rule No. 1: "If it's your first lunch at Lunch Beat, you have to dance."
First-timer Felix Edwards-Mannheimer, 37, is employed by a local pay-per-view TV company, and has come along for a friend's surprise birthday party. "I thought you just sat and ate with techno music in the background," he says. "But from the pictures I saw, it's a real rave. It's a bit absurd, but it's really, really fun." Moments later a syncopated African drumbeat begins, and scores of young women start to sway. A minute later the full bass kicks in, and 600 workers on their lunch hour go wild—many of them still munching on baguettes.
Close to the stage a woman with gray curly hair and a wine-red fanny pack waves her hands in the air. Before long two young men in tight-fitting office shirts—smartphones in hand—start wiping sweat from their brows. A girl with a laptop bag slung over one shoulder gyrates to the beat, still dressed in her work clothes. Kimmo Brundin, 32, is one of the few clubgoers sporting a tie. Between mouthfuls, Brundin explains that this is his first Lunch Beat, and that he works for Telenor, "the world's seventh-largest telecoms company in the world." He doesn't realize it, but he has just violated Rule No. 4: "You don't talk about your job at Lunch Beat."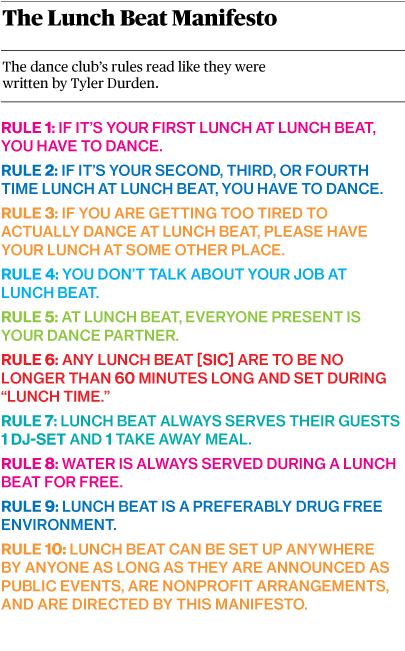 It's an extraordinary scene for midday: young and old dancing together, without any of the alcohol, pretension, or sexual tension that are often synonymous with the nightclub experience. And that, says Lunch Beat founder Molly Ränge, is because "the time is so limited that there is no discussion about whether we should dance or not." She recalls seeing young men from two of the country's major financial institutions arguing in the waiting line recently. They were debating which bank would prevail in a dance-off.
An hour later, Brundin is in his office at Telenor's Stockholm headquarters, overlooking the historic and sleepy harbor. He's changed shirts, and his lunchtime outing has caught the attention of his colleagues; Telenor's press officer vows to join the party next time. Brundin says that the dancing had helped break up his day, and now he feels "energized." He wonders whether a similar event might one day make it to Minneapolis, where he was born. The Lunch Beat Manifesto governs the establishment of such offshoots, with the only real prerequisite for a new sanctioned event that it be nonprofit.
Ränge says she is receiving about five startup requests each week, with recent inquiries from as far afield as India and South Korea. One such request came just last month from Amelia Escobedo, a 37-year-old systems analyst at the MD Anderson Cancer Center in Houston. "I'm a big dance music fan, but sometimes getting out late at night to do that sort of thing is an inconvenience," says Escobedo. "Which is why I'm interested in starting Lunch Beat here, so I can get the dancing in, get a workout in, and go back to work." She's currently scouting a location, and hopes Houston's Museum of Natural Science or Rice University would be willing to host.
If all falls into place by May 31, Houston desk jockeys will be able to join their counterparts in Stockholm, Paris, and 12 other cities in the largest synchronized Lunch Beat yet. In Texas, of course, it will be breakfast beat.