A Crackdown on Patently Absurd Lawsuits
The Supreme Court and White House rein in patent owners who file frivolous cases
By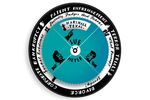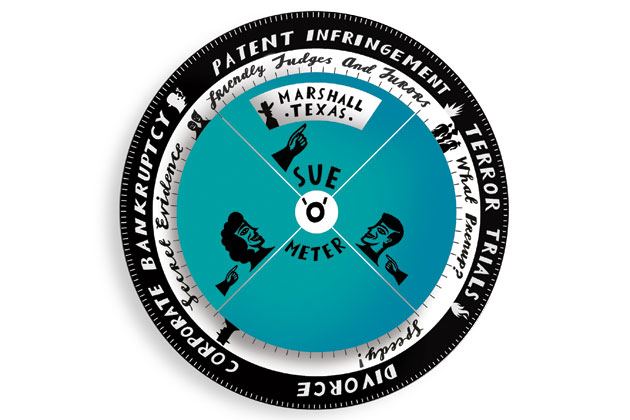 For more than a decade, companies that buy up patents and use them to sue deep-pocketed corporations for infringement have gone out of their way to plead their cases in the Eastern District of Texas. They'd be crazy not to. Judges and jurors who hear trials at the federal courthouses in Marshall and Tyler are considered the friendliest in the land when it comes to handing down big verdicts in favor of litigious patent holders.
The Texas court, which tilts heavily toward protecting individual property rights, has done little to discourage patent owners who sue scores of companies at once in hopes that most will settle rather than shell out the $1 million or more it would take to fight it out in court. And many do settle: Only a sliver of patent cases make it to trial. The judges don't seem to mind when plaintiffs whose businesses are based in faraway cities file in Texas for the purpose of increasing their chances of winning.
Plaintiffs have had an easy time in Texas because local lawyers and jurors liken patents to oil and gas rights, or fences around property, says Sam Baxter, a patent lawyer with McKool Smith in Marshall. Baxter represented Versata Software in its $345 million verdict last year against SAP, the 10th-largest patent award in U.S. history. "People here believe if you own something, you own it, and certain rights come with that," he says.
Patent holders seeking a sympathetic judge and jury—and a big payday—have brought hundreds of infringement suits a year in East Texas. Twenty-five percent of the U.S. patent infringement cases filed in 2011 landed there; plaintiffs won nearly 75 percent of the time. The Eastern District has handed down many of the largest patent decisions against U.S. corporations, including a widely followed 2009 lawsuit in which I4i, a Canadian software company, won $200 million from Microsoft for infringing computer language used in Word.
Yet Texas may not be able to hang on to its status as the leading U.S. patent haven for much longer. Congress and the courts have begun to crack down on the proliferation of infringement cases brought by businesses that use their patents not to make products, but to extract money from those who do. The polite term of art for these companies is "nonpracticing entities." Outside the courtroom, they're called patent trolls.
A series of U.S. Supreme Court rulings has made it easier for defendants to challenge the validity of patents. And the U.S. Court of Appeals for the Federal Circuit, which handles patent appeals, has limited the amount a jury can award in cases when an infringed patent makes up only a small part of a product. The court is also making it easier for defendants to move a case out of Texas if it was brought there for no other reason than to benefit the plaintiff.
President Barack Obama threw an even bigger obstacle in front of lawsuit-happy patent owners when he signed the America Invents Act in September. It includes a provision that prohibits filing a single suit against dozens of unrelated companies. Instead, plaintiffs must file cases individually, making it more expensive to launch scattershot lawsuits in hopes of coercing quick settlements. "It's more problematic to file a case here than it was three years ago," says Baxter.
Problematic enough that the number of infringement suits filed in Texas is starting to shrink. Since September, more cases have been filed in Wilmington, Del., than in East Texas, according to an analysis co-authored by James Pistorino, a lawyer with Perkins Coie in Palo Alto, Calif. There were 484 suits in Delaware and 418 in Texas. Why Delaware? Like Texas, its court gets cases to trial quickly and blocks attempts by defendants to change jurisdictions. And since many U.S. companies are incorporated there, plaintiffs don't have to go through Texas-style legal gymnastics to plausibly claim they should be allowed to sue in the state.
Another sign things may be changing in Texas: Patent holders have lost some big recent cases there. In March, United Continental Holdings won a verdict in Tyler that invalidated patents for reserving seats online. The patents were deemed too obvious. A month earlier, a Tyler jury invalidated a patent challenged by companies including Google and Amazon.com over a way to make the Net more interactive. After years of losing in courts that see patents as private property to be protected, defense attorneys are turning that argument in their favor—persuading juries that people who launch overly broad patent suits are claiming ownership of property that isn't rightfully theirs. "I heard about the statistical reputation that plaintiffs are far more successful" in Texas, says Catherine Lacavera, Google's director of litigation. "But we've had a very good experience there."
BOTTOM LINE -
The bottom line: Federal courts are making it harder for patent holders to file infringement suits against companies in hopes of winning cash settlements.
Before it's here, it's on the Bloomberg Terminal.
LEARN MORE