The Four Stages of Evolution on Gay Marriage
By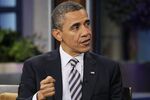 President Obama was widely scorned for saying that he was "evolving" on the issue of gay marriage. Officially, he supported rights for gays  and lesbians, but didn't believe they should be allowed to marry. Unofficially, everyone suspected that he did support marriage rights and was holding  back purely for reasons of politics. Saying that he was "evolving" on the  issue was a form of strategic ambiguity—an attempt to appeal to opponents of gay marriage while at the same time  signaling to supporters that he didn't really mean it and would soon  switch positions. Which he promptly did on Wednesday, when he told ABC News that "it is important for me to go ahead and affirm that I think same sex couples should be able to get married."
That cautious dance is practically the definition of the  "politics as usual" that Obama made a grand display of denouncing when  he ran for president. But his own political calculations aside, there  really is a national "evolution" under way on the issue of gay rights  and gay marriage. Last night, I spoke with a Republican strategist  involved in the issue who said there are actually four stages of this  evolution. They are:
1) No legal recognition of gay relationships. Think: 1950s.
2) Limited legal recognition of gay relationships. This is where Mitt Romney comes down, opposing civil unions and full marriage but supporting domestic partnerships and hospital visitation rights.
3) Full legal recognition, but don't call it "marriage"—civil unions fall into this category. George W. Bush comes down here.
4) Full marriage.
What's noteworthy here, according to the strategist, is that Americans overall have been moving along this evolutionary scale, step by step. What's more, the evolutionary process has been speeding up lately. In an analysis last year [pdf], Joel Benenson (President Obama's pollster) and Jan van Lohuizen (President George W. Bush's pollster) wrote that "support [for marriage] has increased over the years and that the rate of increase has accelerated dramatically in the last 2 years." Support has risen among all age groups and parties.
This doesn't mean that declaring support for gay marriage will automatically help Obama. But regardless of whether or not his own "evolution" is legitimate, the American public really does seem to be in the midst of one.
Before it's here, it's on the Bloomberg Terminal.
LEARN MORE