Obama Loses 40% of West Virginia Vote to an Inmate
By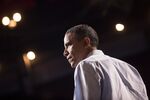 A federal inmate who is running for president won 42 percent of the vote in West Virginia's Democratic primary yesterday. According to the Associated Press, Keith Judd is serving time at the Beaumont Federal Correctional Institution in Texas for making threats at the University of New Mexico in 1999.
Nearly 52,000 West Virginia voters cast their ballots for Judd. It seems pretty obvious that many of them had never heard of him and simply checked the box for "the other guy who is not Barack Obama" when they went to the polling booth. With 70,348 voters, Obama won the primary with 57 percent.
To get a sense of Judd, read the bizarre letter (PDF, courtesy of the Wall Street Journal) he sent to the Federal Elections Commission in April, in which he equates the health-care law with dictatorship and explains his reason for running for office:
"Twenty Six States are prepared to secede from the Union if the Supreme Court votes to support Obama Care. The so called "Obama Care" is not about Health Care, but rather about taking hard earned money from the Working Slave Class, and giving it to the Wealthy Wall Street Ruling Class. This is a Civil War between the Working Slave Class, and the Wealthy Wall Street Ruling Class."
Obama has little chance of winning West Virginia anyway, but it certainly doesn't bode well for him that 40 percent of registered Democrats would rather vote for a complete unknown than not vote at all. In 2008, when Republican voters were disillusioned with McCain, many simply didn't vote. Looks like Democratic voters disappointed by Obama are willing to take their grievances to the polls.
Before it's here, it's on the Bloomberg Terminal.
LEARN MORE