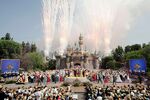 The decline in operating income was primarily due to lower worldwide theatrical results reflecting the performance of John Carter in the current quarter along with the related film cost write-down. Other titles in the current quarter include The Muppets and Beauty and the Beast 3D while the prior year included Tangled, Tron: Legacy and Mars Needs Moms.
—The Walt Disney Co. Reports Second Quarter Earnings, Business Wire, 8 May 2012, 4:15 PM.
And then, there is goodwill.
It was January, cold and rainy. Disneyland Anaheim (Disneyland Paris sounds so romantic) greeted us. A father, a mother, and a 4.2-year-old. And another 12 souls.
Disneyland was empty, and ours.
Somewhere in the vicinity of 4.2 hours into the indoctrination, we entered Minnie's house. The 4.2 Japanese tourists in front of us greeted Ms. (Mrs.?) Mouse with suitable enthusiasm.
At our turn, Minnie was greeted with a resounding 4.2-year-old quiet. Minnie adapted. To this day, I am thunderstruck at how this employee doing Minnie, in total silence, worked the room.
John Carter is a failure. The Avengers is a success. ESPN is Apple-in-disguise. None of it matters.
The Walt Disney Co. will forever create technological progress, innovation, and a unique American resonance. They are the ultimate anti-gloom.
There are 4.2 reasons to short America. Forget it. Go long Team Iger. Discuss.
Tom Keene does not own shares in DIS.