business
Best Undergrad B-Schools by Specialty 2012
Geoff Gloeckler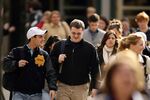 Admissions experts often advise prospective students to find the college that's the "best fit" for them, but the fact is a lot of the information they need to do that is difficult to come by—sort of like shopping for a suit in a store that doesn't display the sizes. One critical factor in choosing a "best fit" college business program is each school's strengths and weaknesses in the academic disciplines high on the student's must-have list.
To help students and their parents identify business programs that best fit their needs, Bloomberg Businessweek each year ranks more than 100 top B-schools by academic specialty. Based on the responses of more than 28,000 students at 123 schools in our 2012 ranking of undergraduate business programs, this year's ranking sheds some light on the academic areas at which each school excels. Looking for a top finance school? Case Western's Weatherhead School of Management is an obvious choice. Sustainability? The No. 1-ranked Mendoza College of Business at Notre Dame might be the way to go.
Click here for the complete 2012 specialty ranking.
Before it's here, it's on the Bloomberg Terminal.
LEARN MORE