A Heady Time for Muni Bonds
By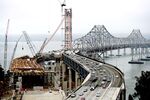 The prophecy, however dire and seemingly made-for-prime-time-TV, sounded reasonable enough: A financial crisis that starts on Main & Wall and jumps the pond to Europe will inevitably take down U.S. municipalities that had borrowed more than they could ever hope to repay.
Hence, Meredith Whitney, one of the prescient doomsayers of the crash, took to 60 Minutes in December 2010 to warn of "hundreds of billions of dollars" of municipal defaults within the following 12 months. Not only did this not transpire, but the $3.7 trillion muni market is loving life right now.
Top-rated tax-exempt bonds due in 10 years have gained for four straight weeks, according to a Bloomberg Valuation Index. A Bond Buyer index of 20-year yields has fallen to levels not seen since 1967. As rates have plunged, cities have raced to refinance their obligations; roughly 60 percent of the $120 billion of bonds sold this year have been for refunding purposes, data compiled by Bloomberg show. That's the highest ratio since at least 2007.
Year to date, investors have added $10.5 billion to muni funds, the most since an 18-week stretch in April 2010, according to Lipper US Fund Flows. Municipal debt has earned 3.5 percent this year through May 3, beating the 0.2 percent gain for Treasuries, according to Bank of America Merrill Lynch indexes, Bloomberg reported.
According to the National Conference of State Legislatures, more than half of U.S. states foresee ending this fiscal year with cash surpluses, the first time they've been so in the black since the start of the recession. So far this year, 21 issuers have defaulted, compared with 29 over the same period last year, according to Concord (Mass.)-based Municipal Market Advisors.
With issuers refunding the most debt in at least five years, there's a growing divergence between the money pouring into munis and the available supply of new bonds to meet that demand. Dare it be pondered that this could stoke a boom in new issues? Or ill-informed risk-taking?
Before it's here, it's on the Bloomberg Terminal.
LEARN MORE