Why Dan Loeb Loves Yahoo's Résumé-Gate
by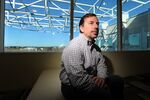 Yahoo! Chief Executive Officer Scott Thompson now admits to inaccuracies on his résumé, which listed that he had a computer-science degree from Stonehill College, when in fact he had studied accounting and business administration. That 30-year-old "inadvertent mistake" might have gone unnoticed if activist investor Daniel Loeb's swat team at hedge fund Third Point hadn't dug it up. Some observers have already responded to the revelation with a shrug. Dan Lyons of The Daily Beast, for one, argues that Loeb has initiated a public-relations crisis because he's a shareholder who wants seats on the board.
That's true. Then again, that's the point. Loeb has amassed more than 5 percent of Yahoo because he thinks his team can run it better. His slate of proposed directors includes himself, former NBC Universal chief Jeff Zucker, former MTV Networks executive Michael Wolf, and former Goldman Sachs executive Harry Wilson. These are the kind of people Loeb believes can help Yahoo sharpen its focus on digital media and advertising, which is what he's pressing the long-suffering media company to do. (Yahoo's board met Monday to discuss Thompson's situation.)
Has he ripped apart their résumés with the kind of forensic zeal he's shown in looking up the bios of Yahoo's top brass? Probably not. Loeb hasn't built a firm with $9 billion in assets for the selfless aim of creating greater transparency on Wall Street. Instead, he's done it by making smart bets and, when needed, pushing for changes that will make him more money.
In truth, this isn't a battle about lying. Loeb might not really care if Scott Thompson spent his time writing code or balancing a ledger as a young man. He probably cares even less about whether Yahoo director Patti Hart got a bachelor's degree in marketing and economics from Illinois State University—as Loeb discovered she misstated on her résumé—or a degree in business administration. He just wants Thompson fired as CEO and Hart, the CEO of International Game Technology, taken off the media company's board. He doesn't like how they're running the place, and he's just discovered some potent ammunition for his battle to get other shareholders on his side.
To be sure, others—from journalists to short sellers—like to dig up dirt on powerful people. What distinguishes investors such as Loeb or Carl Icahn (who on May 7 succeeded in his $2.6 billion bid to take over oil refiner CVR Energy, despite management opposition) is that they offer disgruntled investors real choices. Whether good or bad, choices are increasingly rare at many public companies. Consider the situation at SNC Lavalin (SNC:CN). The Canadian engineering firm is mired in an ethics scandal that led to the departure of the CEO, a sinking stock price, and accusations of poor oversight by the board. Yet despite heavy grumbling, the current slate of directors was recently reaffirmed. One possible reason: No alternative was proposed by anyone.
By putting millions or even billions of dollars on the line, activist investors have a powerful incentive to use everything and anything within their power to make good on that investment. That means sifting through someone's old college records, wooing an alternative slate of directors or executives for top management, or outlining a vision that sets a company on a different direction. The result is a level of passion—and due diligence—that's not always found within the boardroom itself.
Before it's here, it's on the Bloomberg Terminal.
LEARN MORE