How Not to Neo-Apologize
By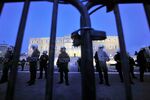 First, however, there was some debate among State Department officials as to whether the department should also apologize with a statement along the lines of "We always regret anything that might give resentment abroad." This idea was rejected, opposed by none other than Jay Pierrepont Moffat, who wrote in his diary, "I personally felt quite strongly that, much as I disliked and disapproved of Mr. Dodd, he should not be apologized for."
—Erik Larson, In the Garden of Beasts: Love, Terror, and an American Family in Hitler's Berlin.
The audience settled in as I asked the first question. Bankers attended. In front of them on yellow couches were officials from the Central Bank of the United Arab Emirates and gathered royal worthies.
I asked Otmar Issing, economist of Germany, if Kissinger's Diplomacy touched upon the need for political-economic cohesion in Europe.
Dr. Issing agreed and took us back to his childhood. "Tom, I only had one Nazi teacher."
The "settling in" of the audience stopped.
I know not what to make of neo-Nazis.
I hope Europe "settles in" and discovers how not to neo-apologize. Discuss.
Before it's here, it's on the Bloomberg Terminal.
LEARN MORE