How Europe's Austerity Backlash Might Change U.S. Politics
By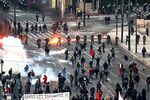 The U.S. Congress is hardly a bastion of Europhiles—remember all that nonsense about "Freedom Fries"? When politicians here do cite the Continent, it tends to be in the form of a derogatory political attack, e.g., Mitt Romney's frequently invoked line about how President Obama wants to "Europeanize" America.
So the idea that U.S. lawmakers might learn something from their foreign counterparts and adjust their views accordingly after the anti-austerity wave sweeping through France and Greece isn't necessarily an obvious one. After all, Republicans point to Greece as an example of what will happen if the U.S. doesn't rein in its debt.
Nevertheless, at least some experts believe that Europe's plight will make austerity measures less likely in the U.S. After all, austerity's effect this week on the careers of prominent Greek and French politicians—namely, ending them—certainly might alter a lawmaker's views toward the necessity of deep budget cuts. A new research note from investment bank Keefe, Bruyette & Woods makes this case. "In our view, these elections will ultimately diminish the chances that the U.S. adopts austere fiscal policies," writes the bank's senior vice president of Washington research, Brian Gardner. "Thus, we feel confident that the 'fiscal cliff' facing the U.S. economy at year-end will be averted at least temporarily."
Among the implications, Gardner suggests, are that the full Bush tax cuts (including those on high earners) are likely to be extended for another year. I spoke to him Tuesday to suss out how this might happen, given liberals' staunch opposition to extending the high-end tax cuts and Republicans' agreement that austerity is the path forward.
"I don't think you can look at Republicans as being homogenous, and moderate members have to be getting nervous," Gardner said. "Post-election, if House Republicans suffer meaningful losses—10 to 15 seats—Democrats will blame the Paul Ryan budget." That will spook surviving Republicans and make Democrats less inclined to accept entitlement cuts. Result: They'll punt, by raising the debt ceiling in exchange for an extension of the cuts, buying time to work through tax reform.
Gardner also thinks that the Federal Reserve will influence Congress toward this result. "They'll get pressure from the Fed to do that as well," he said. "Ben Bernanke has been pointed in warning about the fiscal cliff. [Extending the Bush tax cuts] is not incompatible with avoiding that and buys time."
Right now, that's not a deal either party would make. But implicit in Gardner's prediction is the idea that above all, lawmakers of both parties will want to avoid the "Europeanization" of U.S. politics—because one unmistakable effect is that it tends to cost incumbents their jobs.
Before it's here, it's on the Bloomberg Terminal.
LEARN MORE