Can Yahoo! Hang On in the Ad Market?
Despite executive turmoil, it still sells billions in display ads
by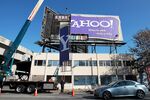 It's all the rage to predict the demise of online display ads and Yahoo!, the company that pioneered the business. Display advertising is the old man of online marketing—website banners are much less fashionable than, say, a personalized coupon delivered to your smartphone. Yahoo has had years of stagnation and leadership crises, the latest being Chief Executive Officer Scott Thompson's résumé inflation.
And yet display advertising is still chugging along, even at Yahoo. The company's sales force sells truckloads of display ads to an array of major brands—Tide, Target, Visa, to name a few—that would be the envy of every online publisher. Last year, Yahoo brought in an estimated $1.3 billion in display advertising in the U.S., according to EMarketer, up slightly from $1.2 billion in 2009. "Yahoo has tremendous traffic and user engagement globally," writes Forrester Research's Shar VanBoskirk in a recent report.
The issue isn't the viability of display ads but whether Yahoo can stay in the game. From 2009 to 2011, the company's share of the market fell from 15.4 percent to 10.8 percent, according to EMarketer. The drop was largely due to the growth of Facebook (its display revenue in the U.S. more than tripled, from an estimated $518 million in 2009 to $1.7 billion in 2011, according to EMarketer) and Google's YouTube ($435 million to $1.7 billion over the same period).
Yahoo is chasing buyers in online video, the fastest-growing category of Web ads, says EMarketer, which estimates the format will grow by 38 percent annually through 2015. In April, Yahoo gave a presentation for ad buyers in New York to showcase the company's new slate of original online video programming and its advertising opportunities. Yahoo announced a new weekly talk show to be hosted by Katie Couric, as well as Stunt Nation, a behind-the-scenes program about how people seem to do improbable things—such as a guy who appears to eat 30 tacos in 30 seconds. On April 30, Couric made her Yahoo debut with a nearly three-minute video investigating "the skinny on veggie chips." A recent viewing came with a commercial for Poland Spring that was brimming with big-budget special effects. If interested consumers clicked on a link near the video they were taken to … Poland Spring's Facebook page.
A Yahoo spokesman declined to say to what extent the New York presentation has generated sales, noting only that the company projects its sales growth for video ads this year to outpace EMarketer's industry estimate of 43.1 percent. If Yahoo can reverse its sliding share of the ad market, it'll deserve its own profile on Stunt Nation. Thirty tacos in 30 seconds has nothing on keeping up with Facebook.
Before it's here, it's on the Bloomberg Terminal.
LEARN MORE