business
B-School Twitter Roundup
Alison Damast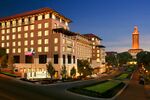 This week's Twitter roundup of happenings in the business school world includes a business major's heroic journey after having had both legs amputated, a look back at one business school's advertising campaign in the 1960s, and a new B-school class so popular that faculty are clamoring to learn the material.
Howie Kaufold, vice dean of University of Pennsylvania's Wharton School, shares his thoughts on the school's new curriculum (@wharton, May 2).
Texas Venture Labs, the startup accelerator at the University of Texas, Austin's McCombs School of Business, gets a $6 million funding boost from Forth Worth businessman and entrepreneur Jon Brumley (@UTexasMcCombs, May 3).
Faculty members at the University of California, Berkeley's Haas School of Business were so intrigued by a new MBA core course on creative problem-solving that they asked for their own workshop version of the class (@richlyons, May 3).
Jeffrey Immelt of General Electric, CNBC's Larry Kudlow, and J.P. Morgan's Jamie Dimon spoke at the University of Rochester's Simon Graduate School of Busines's third annual conference in New York City (@SimonSchool, May 3).
Blake Haxton, a junior finance major at Ohio State University's Fisher College of Business, who had both legs amputated in high school after he contracted a rare form of "flesh-eating" bacteria, was a guest speaker at the school's TEDx conference (@OSUWEXMed, May 4).
Five tips from Veritas Prep on how to get ready for the GMAT's new integrated reasoning section (@MBAatUNC, May 4).
In the last six years, students and faculty from the University of Iowa's Tippie College of Business have raised more than $250,000 to build affordable homes for families; they completed the fifth home this weekend (@TippieIowa, May 5).
Thunderbird School of Global Management unearths the original advertising videos the school used in the 1960s, including the first promotional film ever made by the B-school (@Thunderbird, May 7).
MBA students from the University of Notre Dame's Mendoza College of Business visit a local elementary school to help third- and fourth-graders brush up on their math skills and prepare for the state math exam (@NDBusiness, May 7).
The University of Chicago's Booth School of Business launches Booth Women Connect, a newsletter for female students and alums (@booth_insider, May 7).
Before it's here, it's on the Bloomberg Terminal.
LEARN MORE