Obama Campaign Puts Its Spin on the Economy
By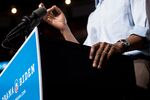 Obama for America, the president's reelection campaign, released its first paid television ad of the election season this morning. It's set to run in nine swing states, and David Axelrod, his chief strategist, told reporters on a conference call that the campaign plans to spend $25 million broadcasting ads this month. Along with Obama's rallies in Ohio and Virginia on Saturday, this really does—finally—signal the beginning of the general election campaign.
If there were any doubts that the election is going to be all about the economy, the ad (entitled simply "Go") should dispel them. It's a straightforward pitch that things have improved steadily throughout Obama's term, one that also seeks to establish his major accomplishments (and not just economic ones): saving the auto industry, killing Osama bin Laden, ending the Iraq war, creating 4.2 million jobs. The ad is careful not to seem triumphant, and it acknowledges that many Americans are still suffering. "We're not there yet, it's still too hard for too many," a narrator says. "But we're coming back." In the call, Axelrod touted this as an example of the positive ads the campaign intends to run.
The ad is largely positive—hopeful, uplifting, gauzy. But what's most noteworthy is that it implicitly acknowledges that the election will be a referendum on the president's performance, despite the Obama's team's claim that it will be a "choice" between two candidates.
The opening scene features all the shopworn images of economic misery: unemployed people glumly standing in line, "Foreclosure" signs, an anxious-looking elderly couple confronting a stack of bills. A narrator intones, "2008, an economic meltdown … 4.4 million jobs lost … America's economy spiraling down." Then the ad cuts to a shot of Obama being sworn into office: "All before this president took the oath."
The strategy here couldn't be clearer: assign the economic misery to George W. Bush and claim credit for the modest improvements and occasional highlights that have come since then. That's an eminently reasonable strategy. But it also suggests that the campaign is more worried about the question "Are you better off now than four years ago?" than it lets on and that Obama is going to try hard to maximize the number of voters who say "yes."
Before it's here, it's on the Bloomberg Terminal.
LEARN MORE