business
ForumWatch: Facebook and MBA Admissions
Francesca Di Meglio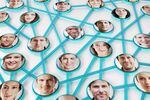 Recently, Bloomberg Businessweek ran a story about how to use Facebook to gain an advantage in the business schools' application process. It included information about restricting access to personal information and tailoring Facebook profiles to highlight accomplishments, interests, and other aspects of your life that MBA admissions teams might find appealing.
Without meaning to, it brings up an obvious question: Should admissions committees or even potential employers be permitted to visit your Facebook profile? Do they have the right? Where should the line be drawn between the personal and the professional? I posed this very question recently on the Bloomberg Businessweek Business School Forums. What do you think? Share your thoughts in the "Should Ad Comm Look at Facebook?" discussion thread.
Editor's Note: This blog post is part of a series about discussions taking place on the Bloomberg Businessweek Business School Forums, where prospective MBA program applicants, current students, and recent alumni trade admissions tips, job hunting advice, and the occasional barbed comment. We invite you to join these discussions or start one of your own.
Before it's here, it's on the Bloomberg Terminal.
LEARN MORE