Hollande's Win: No Radical Change for France
France's first Socialist president in 17 years will be limited by fiscal and market pressures
By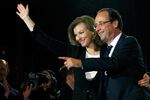 It was closer than predicted, but still a decisive win. On May 6, François Hollande took about 52 percent of the vote to become France's first Socialist president in 17 years.
Nicolas Sarkozy, who alienated voters with his flamboyant personal style while presiding over a sputtering economy, was ousted after a single five-year term. Hollande's strong showing is likely to give him a solid parliamentary majority after legislative elections in June.
Holland isn't likely to lead France in a radically different direction even though his campaign slogan was "Change now!" His maneuvering room will be sharply limited by fiscal and market pressures. It's not even clear that most of his countrymen support the tax-and-spend platform he ran on. A poll taken by survey group Ifop during the first-round vote on April 22 showed that 73 percent of Hollande voters supported him because they wanted to punish Sarkozy. Only 44 percent said they agreed with the Socialist candidate's ideas.
An early signal of Hollande's intentions will come just after his May 16 swearing-in, when he plans to visit German Chancellor Angela Merkel. She had endorsed Sarkozy after they worked closely together to address the European debt crisis, while Hollande blamed German obsession with austerity for stifling economic recovery in Europe. He has called for scrapping the European Union debt-cutting agreement that Merkel was largely responsible for while urging more government borrowing to spur growth–exactly what the Germans don't want. Hollande has become the de facto leading voice among a group of European countries, including Spain and the Netherlands, chafing at austerity restrictions.
The betting, though, is that he will quickly mend fences with Merkel. Hollande "is going to be forced to climb down due to France's weak economy," predicts Fredrik Erixon, head of the European Centre for International Political Economy in Brussels. "He'll soon realize his predicament because financial markets are going to do to France what the French electorate didn't do."
For now, investors are giving Hollande the benefit of the doubt. Spreads on French debt have narrowed since he won the first round of voting on April 22. The French economy is in a parlous state, however, with unemployment at a 12-year high of nearly 10 percent and growth last year of only 1.6 percent. Hollande will need to reassure markets quickly that he has a workable plan to address these problems, says Steven Major, head of fixed income research at HSBC Holdings in London. "The pressure to clarify the position after a change in government will be high, and it will be immediate."
Some of Hollande's campaign promises already look difficult to achieve. He has called for a 20 billion euro ($26 billion) increase in government spending over the next five years, while at the same time pledging to lower the budget deficit to 3 percent by 2013. He has proposed tens of billions in new taxes on businesses and the wealthy, which could backfire by curbing growth and even leading some companies to leave the country. Far-left candidates drew less than 15 percent of the vote in the first round, suggesting that Hollande wouldn't risk a major backlash if he toned down some of his proposals.
Hollande himself is no firebrand Socialist. He's a graduate of one of the country's top business schools and has praised the market-friendly policies of Britain's Labour Party. While calling for tax hikes on big companies, he has proposed tax reductions for smaller businesses. And, while Corporate France largely supported Sarkozy's reelection, there's been widespread disappointment over the slow pace of economic reform during his presidency.
French competitiveness is still dented by complex labor rules and high payroll taxes to support costly social programs, and when major groups such as Air France, Areva, and PSA Peugeot Citroën have tried to trim their payrolls, Sarkozy's government has applied pressure to stop them. Against that backdrop, a new Socialist president may not look so different after all.
With reports from Bloomberg News staff in Paris and Berlin.
Before it's here, it's on the Bloomberg Terminal.
LEARN MORE