Your Facebook IPO Weekend Reading List
By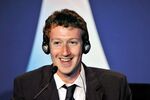 It's been almost three months since Facebook registered to go public and started the complicated path to actually trading. (Can you spot where we are on Bloomberg Businessweek's handy graphic of the process?) On Thursday it took a big step and told the world just how much it thinks it's worth. Facebook priced its IPO at $28 to $35 a share, which gives the social network a valuation of as high as $96 billion. Before Facebook starts its investor roadshow next week, here's a roundup of some news you can ponder over the weekend.
Zuckerberg's going to be one of the richest people in the world.
If the stock prices at the upper end of the range, "the co-founder's stake would be $17.6 billion, making him richer than Microsoft Corp.'s Steve Ballmer and Russian steel billionaire Vladimir Lisin, who are both twice his age."
When Zuckerberg and other insiders finally exercise their options, California can't wait to get its hands on their taxes.
A government budget analyst estimates that income taxes on the options could bring in $2 billion to the budget-strapped state. Zuckerberg's share alone could be $390 million in taxes.
Some big early investors plan to sell as much as $5.5 billion in stock.
"If you really thought that 12 months later the stock would be 50 percent higher, you wouldn't leave that on the table," Erik Gordon, a professor at the Ross School of Business at the University of Michigan, told Bloomberg News.
Facebook's market cap will be 99 times its earnings, a higher multiple than nearly every other company in the S&P 500.
"If you compare it to the number of employees, compare it to the earnings, the valuation is still several times greater than other flagship technology companies," Ray Valdes, an analyst at Gartner, told Bloomberg News. "Still, there's a tremendous amount of interest, and the valuation is lower than expected."
Read this all closely, because you may get a chance to buy Facebook stock.
As much as 20 percent to 25 percent of the offering could be allocated to retail investors, the New York Times reports.
Before it's here, it's on the Bloomberg Terminal.
LEARN MORE