We Review the Facebook Roadshow Movie
As cinematic art, the Facebook roadshow video underwhelms
By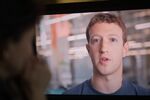 At last, the motion picture epic about superheroes combining their amazing powers to save the world came out this month. I refer, of course, to the Facebook Roadshow Movie. Unlike The Avengers, Facebook's half-hour video pitch to potential investors hasn't gotten great reviews. Is it so bad? This reviewer watched all 30 minutes and 59 seconds so you don't have to.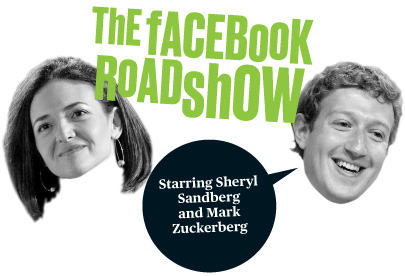 Facebook Roadshow begins with a Star Wars-style text crawl to set the context. Only this movie lacks a triumphal John Williams fanfare, and rather than something like "A long time ago in a galaxy far, far away…" it begins with "This presentation contains forward-looking statements." The Star Wars theme would have been cool, though—or maybe the Darth Vader Imperial March, if you're squeamish about online privacy.
The plot unfolds in five acts. Chief Financial Officer David Ebersman opens Act I ("Our Mission") in an office lounge setting. Not a great start, production-value-wise. This movie seems more airline preflight safety video than The Social Network II directed by David Fincher.
And then the founder himself appears. Mark Zuckerberg is wearing his usual attire—gray T-shirt, jeans. He's sitting in a plain conference room with gray carpet and a gray sofa. It could be any office in Corporate America, which is the point: No brogramming tomfoolery here, folks. Practitioners of unimpeachable management are we.
The filmmakers go for an Errol Morris camera style: close-ups with extemporaneous (or extemporaneous-ish) talking by the subjects. This is Zuckerberg in an ideal laboratory setting, where there's no chance he'll go off on a tangent or sweat profusely and reveal some secret patch sewn into a hoodie. As planetarium music undulates on the soundtrack, he talks about his inspiration for Facebook and creating a world where discovering stuff online doesn't just mean search engines. He seems to be looking off to the side slightly, as if he's reading a prompter, which damages the Errol Morris vibe. And yet Zuckerberg comes across as authentic, even sympathetic. You'll root for him. By golly, this young man just might pull it off! SPOILER ALERT: He pulls it off.
The next character introduced is Chris Cox, Facebook's vice president for product. He's good. "Your life is an interesting story that a lot of people would be interested in," he says. "Especially the global advertising-marketing complex," Cox does not add. He and Zuckerberg go back and forth about the appeal of sharing photographs with friends and families. Pictures of babies, proud parents, and babies with proud parents swoop around on screen.
About seven minutes in, Zuck and Cox get into Act III: "Platforms." "What we mean by platform is fabric that makes any product social," says Zuckerberg. Such as what products? Cut to friendly cow-pattern graphics and Ben & Jerry's executives, one of whom talks in a vaguely foreign accent about having a "holistic relationship with our community." Ice cream. Social. Ice cream social! I'll have a Cherry Garcia cone and some Facebook shares, please.
Chief Operating Officer Sheryl Sandberg doesn't appear until around halfway through Facebook Roadshow. As students of narrative will recognize, this is the "compelling value proposition" part of the story arc. Sandberg describes the power of friend recommendations as a driver of sales. Facebook, she says, is "word of mouth at scale." Children and others unfamiliar with the PowerPoint dialect may hear that and think, "Germs!" Some viewers, such as T. Rowe Price fund managers, may leap out of their Aeron chairs and cheer.
Ebersman, the CFO, returns for Act IV: "Finance." This part, which to connoisseurs of Silicon Valley corporate speak will seem nothing short of a masterpiece, is meant for financially mature audiences. As for everyone else, a suggestion: Treat this stretch as a workplace coffee-drinking game. "Payments infrastructure." Drink! "Competitive advantage." Drink! "Mobile monetization." Chug it!
The ending is flat and a little puzzling. The CFO thanks viewers for the opportunity "to introduce Facebook." This after the film notes that Facebook is closing in on a billion users. It's like an instructional video on what to expect at McDonald's. Seriously, is there anyone, particularly an institutional investor, who hasn't made up her mind about this company and whether to buy the stock? Aha! Whiff of drama: There are skeptics on Wall Street and in the media who don't think Facebook has proven itself as a can't-miss way to hawk products. How does one know if one's luxury car ad on Facebook leads to more sales? Imagine what Fincher could have done with this material.
The screen fades to black as the counter ticks down to 30:59 and … bonus footage! On comes an executive from liquor maker Diageo, who talks about the awesome power of Facebook ads to get people to buy more product. Skeptics answered, plot resolved. The end.
Before it's here, it's on the Bloomberg Terminal.
LEARN MORE