Sudden Oil Sell-Off Should Drive Down Gasoline Prices
by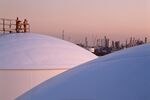 It's official: The oil sell-off is in full effect. Since peaking in mid-March, oil prices are down nearly 10 percent, pushed lower by weaker economic news and the realization that, for now, there's plenty of supply on hand.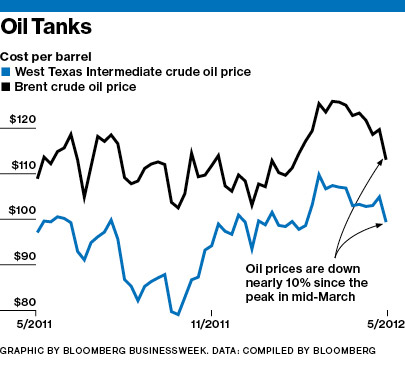 As of Friday morning, oil prices were roughly where they were in early February, giving back two months of increases fueled in large part by fears over impending Iranian supply disruptions. Though there's still a considerable price gap between the two most widely quoted oil benchmarks, the international Brent benchmark and the domestic West Texas Intermediate have both fallen. WTI is now trading below $100 for the first time since early February.
Supplies have been loosening for weeks, not just in the U.S. but on the world market, too. The International Energy Agency recently reported that the oil market is as well-supplied as it's been since 2009, back during the depths of the global recession. In an attempt to bring down oil prices that had edged toward $130 earlier this year, OPEC has been pumping like mad, increasing production by about 2.3 million barrels per day.
The U.S. is also swimming in oil. At 6.1 million barrels per day, production is up 8 percent year-over-year. We're also importing an increasing amount of crude from the Canadian tar sands. At 43 million barrels, the amount of oil at Cushing, Okla., the biggest supply hub in the U.S., is now at an all-time high. Back in January, Cushing inventory was just 28 million barrels.
This should all help keep a lid on gasoline prices for the foreseeable future. Even though prices continue to fall, demand for gasoline in the U.S. remains weak. The Energy Information Agency projects that summer demand will be at an 11-year low this year.
Before it's here, it's on the Bloomberg Terminal.
LEARN MORE