Record Art Sale Boosts Orders for 'The Scream' Poster
By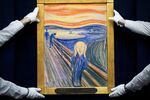 On Wednesday, one of four original versions of Edvard Munch's iconic and often parodied work The Scream sold for $119,922,500 at Sotheby's. It was a record-shattering transaction. Previously, the highest sum to change hands at auction for a work of art was $106.5 million, in 2010, for Nude, Green Leaves and Bust, a painting by Pablo Picasso.
After this week's sale, however, Norwegian businessman Petter Olsen, who is the painting's previous owner, and the citizens of Hvitsten, Norway, who will enjoy a forthcoming museum funded by the proceeds, aren't the only ones reaping the benefits.
"Before this week, The Scream was a steady seller," says Geoffroy Martin, the chief executive officer of Art.com, the world's largest retailer of prints, movie posters, framed art, and other mass-produced wall decor. "I'd say it's [usually] in the top 50. On Wednesday its sales increased three to four times. Sales increased 10 times yesterday. From a unit point of view, it was the top seller yesterday."
Art.com, which merged with AllPosters.com in 2005, sells prints of millions of different works of art, and just as many posters. According to Martin, the Emeryville (Calif.)-based company has annual revenue of "well over $100 million." (Art.com is a private company and does not release exact sales figures.) It maintains localized websites in 25 countries and partnerships with several museums, including the Museum of Modern Art in New York and the de Young Museum in San Francisco. (It's a good bet you can trace the provenance of that Cézanne still life hanging in a high school classroom, or that Goodfellas poster pinned to the wall in a college dorm, to this site.)
"Whenever there is meaningful news that has an impact on an image, we're going to see a big spike," says Martin. "Whenever there is a sports team winning a championship like the World Series—or a blockbuster movie release. Last year we saw a big spike with the royal wedding and the British royal family. There's a new band that is killing right now from the U.K. called One Direction. As for [The Scream], there's nothing that looks like it. When it was painted, it was entirely unique and controversial. When you see it, you know that there is something special about it."
On a typical day, the bestselling prints are paintings by Van Gogh such as Almond Blossoms and The Starry Night, works by Andy Warhol such as Three Elvises, and Monet's The Artist's Garden at Giverny.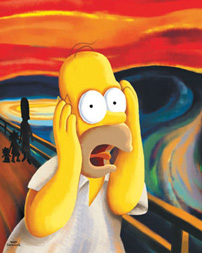 But this week belongs to The Scream. The painting not only broke art-world records, but it also howled its way to the top spot for carbon-copy art—which was no humble feat. Martin had to consult his data to be certain that The Scream usually outsells its most popular spoof, a version of the painting with Homer Simpson in the face-clapped pose. (For the record, it does.)