Gainfully Consumed
by and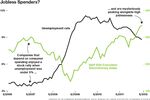 This chart has been corrected to show the time axis running from May 2006 to May 2012.
No disrespect to U2′s Achtung Baby, but this economy moves in mysterious ways. While the rapidity of this recovery actually is not dissimilar to previous recoveries, we still need to make up 8 million jobs lost—and more, if you account for population growth.
But how do we dig ourselves out of this hole when we are only adding payrolls to the tune of 115,000 per month; many unemployed are just dropping out of the jobs hunt entirely. Hand wringing, doubt, and angst dominate. Is 8 percent joblessness—the order of the day since February 2009, and the longest such stretch since 1948—the new 5 percent?
So then how can it be possible that the shares of totally optional, non-life-or-death consumer brands are doing better than they ever have? Yes, Friday saw a broad market selloff on the underwhelming jobs data. One month's hot. The other's not. It's an old story.
But earlier in the week, the Consumer Discretionary Select Sector Index set an all-time high. Year to date, the index is up 18 percent, doubling the broader market's return. So much for the phantom recovery's depleted American consumer.
Why can't you get a table at a Panera Bread, which not too long ago launched a $16.99 lobster roll? Adjusting for splits, Amazon.com is so crushing it that its stock is worth almost triple the infamous $400 price target then-analyst Henry Blodget put on it in December 1998. Cable king Comcast is in triple-play clover these days. Bill-slashing cord-cutting, my foot. Nike, which has made an art form of marking up cheap, developing-market labor and latex, just hit an all-time high. Lux leather retailer Coach did the same in March: Its shares have traveled from $12 three years ago to $73 now.
For better or worse, personal consumption as a share of gross domestic product has never been so high. And yet, reports Bloomberg News: "Stocks and bond yields fell on bets that a slowdown in hiring will restrain the wage growth needed to fuel the consumer spending that accounts for 70 percent of the world's largest economy."
Wages aren't zooming. Few feel gainfully employed. Underwater mortgages clog the system. Food stamp usage has never been so high. Yet as a whole we somehow feel just flush enough to buy things we don't necessarily need. Makes you wonder how such discretionary purchases would be faring in a quote-unquote normal economy.
Before it's here, it's on the Bloomberg Terminal.
LEARN MORE