Chef Martin Picard's Decadent Bag Lunch
Julian Sancton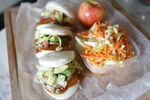 Office workers who brown-bag their lunch usually do so to save time or money or both. This week's "bag lunch" recipe satisfies neither of those criteria. It will take all weekend to prepare (mostly unattended), and requires several rare or expensive ingredients. But what else can one expect from Montreal chef Martin Picard, the Falstaffian bon vivant behind such temples of culinary decadence as Au Pied de Cochon and Sugar Shack? We asked him to put together a portable meal that any reasonably competent deskbound gourmet could throw together and that would still be good the next day. For Picard, known for draping foie gras or drizzling maple syrup over pretty much everything, this counts as restraint.
On the plus side, it will feed you for a good week. Just pack a napkin.
And forgive the metric measurements. He's Canadian.
Steam Bun Sandwich With Maple Duck and Foie Gras
Accompaniments: Coleslaw; Apple
Eight Steam Buns:
Ingredients:
1 duck
4 liters of water
850 grams of coarse salt
250 ml maple syrup
600 grams of foie gras
400 ml maple mayonnaise
Avocado salad
8 buns
Instructions: Remove the legs from the duck and keep them for another day. Poach the duck in boiling water for 10 seconds and cool down immediately in an ice bath. Mix 4 liters of water with 850 grams of coarse salt and brine the duck for 2 hours. Dry the duck with a cloth and brush it with maple syrup. Put in the fridge uncovered to dry for 2 days. Cook at 300F for 2 and a half hours. Make a spray bottle with half water, half maple syrup, and spray it every 15 minutes.
Maple mayonnaise:
Ingredients:
300 ml mayonnaise
50 ml maple syrup
50 ml soy sauce
Juice of one lemon
25 ml sri racha
Instructions: Mix everything together.
Avocado salad:
Ingredients:
2 ripe avocados, cut in big chunks
2 tomatoes, diced
1 head of iceberg lettuce, sliced
4 green onions, thinly sliced
Olive oil
Lemon juice
Salt and pepper
Instructions: Mix everything and season to taste.
Cut the foie gras in 75g portions and sear in a hot pan. Steam the buns for 8 minutes.
We are ready to assemble! In the bun, put about 100g of the duck breast that has been sliced with the skin, of course, then the foie gras, the mayo, and finish with the avocado salad.
Coleslaw:
1 cabbage, thinly sliced
2 large carrots, julienned
Coleslaw dressing:
500 ml canola oil
100 ml Dijon mustard
100 ml white vinegar
100 ml maple syrup
Salt and pepper
Celery salt
For dessert, a Cortland apple!
Before it's here, it's on the Bloomberg Terminal.
LEARN MORE