Wells Fargo: King of Mortgages
By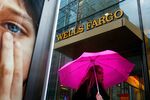 If you got a new mortgage or refinanced this year, it's a one-in-three chance you borrowed from Wells Fargo. New data show that in the first quarter of 2012, Wells Fargo, which is headquartered in San Francisco, originated 33.9 percent of mortgages in the U.S., according to the trade publication Inside Mortgage Finance. That's more than the next seven largest lenders combined and the largest market share ever recorded.
Wells Fargo has doubled down on mortgages as its competitors have pulled back. During the financial crisis, Wells Fargo avoided the losses from risky mortgages and mortgage bonds that plagued such rivals as JPMorgan Chase and Bank of America. Those banks have withdrawn from parts of the mortgage market, such as selling loans through brokers, thus leaving more space for Wells Fargo. "They were able to pick up a lot more business just by being out there, opening the doors, and turning their lights on," says Guy Cecala, the publisher of Inside Mortgage Finance.
Wells Fargo, for its part, says the growth just kinda happened. "If we're talking about the business two years ago, I don't think we would have imagined that our market share would be where it would be today," Timothy Sloan, the bank's chief financial officer, told investors on May 1. That may be, but Sloan wants even more. "We're going to continue to want to grow it."
Wells Fargo is also the country's largest mortgage servicer, responsible for processing payments and working with delinquent borrowers on behalf of investors. That gives it a leg up in getting more refinancing business, because homeowners are more likely to refinance through the bank they are already dealing with. And the servicer has some advantages through the government's refinance program for underwater borrowers.
As Christopher Whalen, a senior managing director of Tangent Capital Partners, points out, Wells Fargo also doesn't have a big securities or capital markets business like its competitors, so it must turn to real estate business to expand. He says that such high concentration comes with risks. In a commentary for HousingWire, he worries aloud that Wells Fargo may be underpricing loans just to get new customers to whom they hope to sell other products—a decision he says may come back to haunt the bank if customers don't bite on the other offers or if the loans go sour.
Cecala also says Wells Fargo should be wary about having so much exposure to residential housing. "When you wake up one day and you have 34 percent of the market, leaps and bounds above any other financial institution, it has to give them a little pause," Cecala says. Regulators should be concerned too. "If we are trying to move away from too big to fail," he says, "I'm not sure this is moving in the right direction."