business
Water Wins Wal-Mart's New Product Contest
By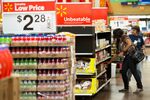 In the race to catch up to e-commerce leader Amazon.com, Wal-Mart Stores, the stodgy retail giant, has been getting downright Amazonian.
In the last month, Walmart.com, the San Bruno (Calif.) division of the retailer, has unveiled a range of clever, customer-friendly innovations. There's a new way for online shoppers to pay for items with cash, and a program called Disk to Digital, which allows an owner of a DVD to take the disc into a Wal-Mart store and get a copy of it online that he or she can watch from any device, at any time.
What's gotten the most attention, though, is a contest, called "Get on the Shelf," which invited inventors and small business owners to submit videos of their homegrown products, and then asked website visitors to vote on the best one. The top vote-getters were promised an opportunity to have their products sold on Walmart.com, while the grand prize winner would get a coveted spot on the actual shelves of at least some of Wal-Mart's 5,000 stores around the world.
Wal-Mart announced the winners of the contest on Thursday, after a furious lobbying effort by thousands of entrepreneurs who submitted video entries, and after more than a million votes were cast. It was a surprising outcome, to say the least. Taking the top prize was not an ingenious new invention but the oldest substance on the planet—water. Humankind Water, a bottled-water startup based in Philadelphia that pledges to donate its profits to undeveloped nations to help them cultivate new sources of clean drinking water, took the top prize. PlateTopper, a plastic top that sits on a dinner plate and converts it into a storage container, and a quickie $5 eyeglass repair kit called SnapIt were the runners-up.
Joel Anderson, president of Walmart.com since last August, sounded jubilant about the response to the contest, though he conceded the company did not anticipate that the winning invention would be plain old H2O. "The winner is who the winner is. It was completely determined by the fans," he said. "It's been a fantastic initiative for us."
Wal-Mart has had a tough few months. In February, the Bentonville (Ark.)-based company reported sluggish sales growth and depressed profits, the result of lowering prices to get customers into stores. Earlier this month, the New York Times exposed allegations of bribery in Wal-Mart's Mexican division.
While that scandal rages, the retailer has been steadily improving its tech credentials. A year ago it bought social shopping startup Kosmix, whose senior managers happen to be former Amazon executives. They now run Walmart Labs, a sort of R&D division for Walmart.com. The retailer also recently nominated Google veteran Marissa Mayer to its board of directors. While Wal-Mart does not release data about Web sales, Anderson sees reasons to be optimistic about its progress—and about the long battle ahead against Amazon.
"Like anything that Wal-Mart does, when we lean into something, we are all in," he said. "In all these cases, it shows you the creativity and the inventiveness that exists here on our digital team."
Before it's here, it's on the Bloomberg Terminal.
LEARN MORE