Ronan and Colin Hannan's Ka'ana Belize Resort
Irish brothers escaped corporate careers to start a luxury resort in the far reaches of Belize
Alexandra Wolfe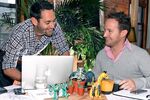 As soon as Ronan Hannan became a certified accountant, he decided it was the wrong career for him. In 2002, after three years at the Dublin branch of PricewaterhouseCoopers, Hannan took a two-year trip around the world to figure out another option. In South Africa, he met up with his younger brother, Colin, who had just started working in real estate development. There, they hatched an idea: to build a hotel that would provide adventure and luxury.
"I wanted to get out of the corporate world," says Ronan, 36. "Traveling as a backpacker, you gain a lot of cultural experience. But you want to be able to have a nice meal and not have to share a bunk bed with 10 other people."
The brothers settled on Belize as the hotel's location and moved there in 2006. "We really wanted to find a place that wasn't exploding in growth," says Colin, 29. Using their savings and investments from friends and family, they developed the concept for a 17-room, 16-acre boutique resort called Ka'ana Belize, which offers five-star comforts as well as ziplining and jaguar tracking.
The biggest challenge when they opened, in late 2007, was attracting visitors. "We were in an unknown part of Belize and had no experience in the market," says Ronan. By the end of 2009, their revenue had grown to $500,000. That number nearly tripled in 2011.
Now the Hannans plan to build a "lifestyle brand" around the Ka'ana concept, possibly including furniture and clothing lines. Colin says they underestimated the demand for high-end adventure: "I've never seen so many private jets coming in to do Mayan ruins."
 

Ronan and Colin's Best Advice
1. Don't focus on the money: If the idea and the research are good enough, you should be able to come up with a great business plan that will succeed in raising investment. Don't think about the money—focus on nailing the idea.
 
2. Alienate people: A properly defined product should drive away some potential consumers. Otherwise you're not making a strong and cohesive enough statement. Being bland to everyone is no use—cause a stir.
Before it's here, it's on the Bloomberg Terminal.
LEARN MORE