Pimco: Totally Returned
by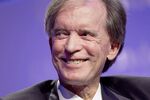 After an annus horribilis that Bill Gross, Pacific Investment Management's star manager, called a "stinker," Pimco's flagship Total Return Fund, the world's biggest, has swelled to a record $259 billion, the company reported on May 2. According to Bloomberg, Gross's mega-fund attracted $2.7 billion of investor deposits in April and has returned 4.4 percent this year, beating 98 percent of its peers. Size be damned: The yoga devotee has steered Total Return to a five-year performance of 8.66 percent per year, which was in the 98th percentile of its peer group.
For a fund supertanker of that size to deliver such steady returns is pretty much unheard of. Pimco now has sovereign-like clout, sporting $1.77 trillion in assets under management, up from just $12 million when it was founded in 1971. The firm remains a central beneficiary of a multi-decade bond bull run that has seen investors continue to pour money into fixed income—at the expense of equities.
Still, few doubt that the easy money in bonds has been made, what with the price of Treasuries soaring during the financial crisis, and through various scares of the aftermath: Europe, America's credit downgrade, Nancy Grace on Dancing with the Stars. Gross goofed when he eliminated Treasuries from Total Return a little more than a year ago, believing that riskier bonds would do better in 2011. The fund returned 4.2 percent last year, lagging behind 69 percent of rivals. Investors responded by withdrawing $5 billion from Total Return, which for millions of people had become synonymous with "bond fund."
Even though Total Return has apparently gotten its groove back, it will be persistently hounded by the quarter-trillion-dollar question of our times: Just how big can it get without sacrificing performance?
Before it's here, it's on the Bloomberg Terminal.
LEARN MORE