business
One World Trade Center Rises, Along With Its Rents
One World Trade Center may be NYC's tallest building, but it still needs to find renters
By and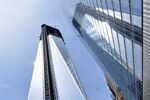 The Port Authority of New York and New Jersey was quick to congratulate itself on April 30 when One World Trade Center surpassed the Empire State Building in height, making it New York's tallest skyscraper. In a news release, David Samson, the agency's chairman, said the tower was "much more than steel and concrete, it is a symbol of success for the nation."
The Port Authority is justifiably proud of One World Trade Center, the tallest of six towers that will rise at Ground Zero in lower Manhattan. The redevelopment of the site of America's worst terrorist attack was delayed for years by lawsuits and political squabbling. Now that One World Trade Center has reached 1,271 feet, it has begun to fill the void in the Manhattan skyline where the Twin Towers once stood. When it is finished in 2013, the David Childs-designed skyscraper will be 1,776 feet.
But will the rents soar along with the tower's height? The Port Authority is asking $75 per square foot in the building—comparable to the average for top-notch commercial space in midtown Manhattan. But real estate experts say the agency has had to discount the price to attract Condé Nast, its anchor tenant, which has agreed to take floors 20-45 in the building. "The market has yet to validate" the Port Authority's asking rent, says John Wheeler, managing director of real estate broker Jones Lang LaSalle.
Douglas Durst, chairman of the Durst Organization, which is co-developing One World Trade Center and handling its leasing for the Port Authority, would not discuss the tower's lease prices. However, he acknowledged that the agency was offering rental subsidies of $5 per square foot. "We're very optimistic that we'll have the building fully rented by the date of 2017, 2018," he says.
The Port Authority has been through this before. Mitchell L. Moss, Henry Hart Rice Professor of Urban Policy and Planning at New York University, says the Port Authority employed similar tactics when it opened the first World Trade Center in 1973. "They had to practically give away space to attract tenants," he says. "They had dentists in there and artists. They moved a lot of state agencies in to fill the place." Even so, according to Moss, it took 13 years for the Port Authority to fill the Twin Towers. He says the agency didn't really attract Wall Street tenants to the complex until after the 1993 terrorist bombing, when it renovated the buildings and upgraded the retail space.
Moss agrees with Durst that it won't take that long to fill One World Trade Center. The urban studies professor points out that the surrounding neighborhood is no longer the stodgy business district that it was in 1973. It is now filled with expensive residential buildings, fancy restaurants, and fashionable people.
He also says that One World Trade Center is easily accessible by public transportation from New Jersey and Brooklyn, where most Manhattan office workers now live. Surely they will appreciate the upscale additions in lower Manhattan. They may also enjoy saving some money. Moss notes that retailer Century 21′s flagship store is only a short walk from the tower on Cortland Street. "Everybody wants to shop there," he says.
Before it's here, it's on the Bloomberg Terminal.
LEARN MORE