Microsoft Puts Windows Live Out of Its Misery
A rebranding shows the company is serious about the cloud
By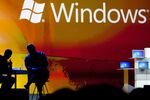 Windows Live is dead.
On Wednesday, Microsoft dished out its latest thesis on how software services should be branded in the cloud era. Since 2005 it has used the Windows Live monicker to describe cloudy things. People signed up for Windows Live accounts and used those to manage such services as Hotmail for e-mail and SkyDrive for online storage. As Microsoft described it, Windows Live was "a set of personal Internet services and software designed to bring together in one place all the relationships, information and interests people care about most, with more safety and security features across their PC, devices, and the Web." Phew.
Well, the Windows Live brand failed to capture the public's imagination, and now Microsoft has decided that the cloud is a right rather than a brand. In the future, people using Windows computers and phones will sign into their Windows account, which will then open up all those same online services. As terminology, Windows Live no longer exists. And the change is more than mere nomenclature fiddling.
Microsoft is basically saying now that when you log into a machine, you're logging into the cloud as well and don't need to take that extra step of hopping onto Microsoft Live's website. No matter which computer you're on, your data and apps will follow. This is Microsoft putting its stake in the ground as a cloud believer.
The company still has branding nightmares, however. (Need proof? Look at this chart.) With a Microsoft account, users access SkyDrive for storage, Zune for music and movies, and Xbox Live for gaming. Of all of these services, Xbox Live clearly carries the most cachet. It's beloved by the young, the hip, the gamers. SkyDrive has a lot of users—17 million active folks per month—which is fine, but I rarely hear people professing their love for the service. And I've never heard a non-Microsoft employee mention the Zune service, which is named after a now-defunct MP3 player.
As a user of all these services, I'd love to see Microsoft tie them together better. I want to pay for my Xbox Live and Zune subscriptions together, and find all my data—photos, videos, game stuff, and documents—in one spot. My suspicion is that "Zune" is not long for this world and that Microsoft has some other brand in the works that will unite SkyDrive with its entertainment services.
Microsoft's services are far better than most people realize, and the company could sure use any boost—naming or otherwise—to get folks to give them a try.
Before it's here, it's on the Bloomberg Terminal.
LEARN MORE