MBA Journal: Finding My Way
Susan Shell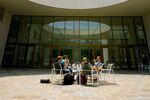 Someone outside of MBA-land recently asked me if I was thinking about getting an internship this summer. I didn't know what to say—after spending five months wringing my hands about the entire internship process, "yes" seemed to be an understatement.
When I accepted admission to Duke's Fuqua School of Business, I remember giving a summer internship passing consideration, figuring it would be another small part of life at school. Since then I've realized that much of the focus of first-year MBA students is on landing an amazing summer job, even sometimes at the expense of academics.
Really, the entire process seems counterintuitive. Many students head into an MBA program to learn more about new fields or to make a career switch, but (almost) the second we arrive on campus, we begin recruiting for life after school, gearing up in black suits and name tags to tell our stories to company representatives, as if we're certain we know what we want to be when we grow up. Throughout the fall I would wonder why I was focusing so much on finding an internship, when I really needed to understand accounting.
Fuqua had a mind-boggling number of top companies recruiting on campus this fall, first coming to give official presentations on their organizations, then usually back again to host "industry insight" panels or invite-only networking events. Looking back at the recruiting season, I suspect that my fellow first years and I didn't realize just how competitive the on-campus process would be, perhaps because our school is so collaborative and team-oriented. When a group of us made the interview list for a competitive internship program, we prepared together, sharing insights from our various conversations with company contacts, helping one another hone our interview answers and reframe our various strengths and weaknesses. After all that effort, collaboration, and hope, it was disappointing to see some of us receive offers while others did not. I think the experience is typical at Fuqua, however—we got through the process together.
Unbelievably, this fall recruiting snapshot describes only what happens at school. Fuqua's career center also prepares us to recruit "off campus," where students go to companies to investigate job opportunities instead of companies coming to students (also known as the way the real world works). These are companies that don't traditionally recruit MBAs or that don't have the resources to conduct MBA recruiting on campus. Off-campus recruiting encompasses many social sector employers—socially responsible businesses, nonprofit organizations, and large companies with sustainability and corporate social impact departments—which is appealing to me. So, in addition to my on-campus recruiting, I was also setting up informational interviews and applying to internships to explore those less-traditional MBA career options.
I definitely found it challenging to determine the best line of experience for me to make the most impact in the social sector. There is no set path for people who want to do my line of work—and unfortunately, much of recruiting is all about path. I ultimately ended up interviewing across a few different industries, on and off campus. I have so many interests, and I was fascinated by the array of opportunities and experiences out there. I've ultimately decided to accept an internship offer with a large company with a strong corporate social responsibility focus, and I'll be working on its social impact goals, an opportunity to blend my B-school education with my interests.
Now that I have an internship, and I'm preparing to head out west for the summer, I wonder if I could have made it through the year without all the internship-related hand-wringing. Looking back at the fall, I feels as if I had an out-of-body experience—where did all that time go that I spent researching companies, networking, attending presentations, and prepping for interviews?
In September, a few second years told me to write down the reasons I decided to come to B-school and post them on my bathroom mirror, so I could remember them throughout recruiting season. Of course, like a headstrong first year, I didn't listen to them, and I definitely felt lost at certain points this year. As painful as it was, however, to find my way through the career path fog, the internship search also provided me with the chance to reflect on why I'm here, what my goals and values are, and what I've learned about myself since starting my MBA program. While I might have earned a few grey hairs in the process, the informal education was invaluable—perhaps as invaluable as learning accounting.
Between journal entries, you can keep track of Susan's business school adventures at the Business Schools Facebook page. Follow the Bloomberg Businessweek B-Schools team on Twitter.
Before it's here, it's on the Bloomberg Terminal.
LEARN MORE