business
How About Them Gams: 3D Printing Custom Legs
By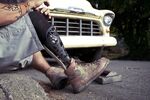 Walk into Scott Summit's downtown San Francisco office and the first thing to hit you are legs. (Literally, if you're not careful.)
Summit, the co-founder of Bespoke Innovations, has set up a display area to show off his custom body parts. Artfully lit white shelves are lined with feet, shins, and entire legs made out of sturdy, yet flexible plastic. Summit builds these products for amputees and gives them a design flourish well beyond the hodgepodge machinery that goes into traditional prosthetics.
"We are working on this guy from Israel right now," Summit says. "We are designing a Porsche 911 aesthetic for him. It's a really classic design with clean lines and timeless detailing. We just did three other legs for three guys in Germany, all to reflect their very distinct personalities."
What Summit and his team at Bespoke have developed is an entirely new way to think about and manufacture prosthetic limbs. Summit will use a scanner to capture the shape of a person's existing leg and turn that into a 3D image on a computer. The image serves as the basis for a new leg that Summit will design and then send to a 3D printer that will turn the leg into a real object. (For more on how 3D printers work, check out my recent feature on the technology.)
A leg from Bespoke will cost about one-tenth as much as a $60,000 to $75,000 traditional prosthetic, and yet it still has advanced features like locking knees and ankle joints that flex with pressure. Beyond those basics, Bespoke will craft the artistic flourishes that really set the legs apart.
At his office, Summit pulls out swatches of the different looks he can print in the plastic—everything from flowers to wrought-iron patterns. He also describes the metal, leather, and plastic cases—or fairings—that he can put around the legs to make them stand out. See for yourself.
I first wrote about Summit's work in 2010, and since then he's received worldwide attention. Nike has paid a visit to see about working on a leg for one of its star athletes, while the military has expressed interest in the low-cost, dishwasher-safe limbs. Next up for Bespoke is getting insurance plans to cover the cost of its luscious limbs. "We're getting closer and closer to that," Summit says.
Before it's here, it's on the Bloomberg Terminal.
LEARN MORE