Grateful Dead Smiles and Aerosmith Testimonials: A Manufacturer's YouTube Strategy
by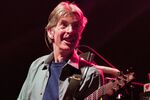 With all the hoopla surrounding YouTube's new channels and ad initiative, business owners may be left wondering how to raise their profile on the site. One small company that has made a pretty big splash is Pigtronix, a guitar effects-pedal maker headquartered in Port Jefferson, N.Y., a town on Long Island about 60 miles east of Manhattan's Upper West Side, where YouTube unveiled scores of new channels to ad executives on Wednesday evening. "YouTube is a core part of our marketing strategy," Pigtronix co-founder Dave Koltai told me as he demonstrated his pedals on Tuesday afternoon.
In the past five years, the eight-employee company has uploaded about 80 videos that have gotten a rough total of 670,000 views. There's Grateful Dead bassist Phil Lesh with a huge grin while he checks out various effects. There's Bob Mothersbaugh of Devo jamming through a Mothership synthesizer, an Echolution delay, and other Pigtronix toys. There's Aerosmith guitarist Brad Whitford talking about how a Pigtronix distortion pedal has unseated a rival's product in his guitar rig.
While Pigtronix's numbers aren't huge when compared with the millions who check out popular music videos, the effort costs the company almost nothing. Koltai and other employees typically shoot the videos (occasionally they'll hire a videographer for higher-profile artists), and Koltai edits them. "It's very difficult to put numbers on it, but a lot of the people we talk to say they know about us from the videos," says Brian Bethke, Koltai's fellow co-founder. (I had last chatted with him about seven years ago for this story.)
One pedal, a limited edition of a sustainer called the Philosopher's Tone, is sold only through an online retailer. "I'd bet that everybody who's bought that pedal has seen the video," Koltai says. "Where else would you be able to hear it?"
The company also encourages users to post their own videos, and Koltai and Bethke have informal agreements with other music-gear companies such as amp maker Orange and PRS Guitars for videos that feature both their equipment and Pigtronix pedals. Search for Pigtronix on YouTube and the first page of results consists mostly of videos from others, not the company itself. For a new looping pedal expected later this year, Koltai says he's considering a video song contest of people using the device.
Over the years the company's video strategy has morphed, Koltai says. While he initially thought product demos would be the way to go—some of the pedals are complicated and a tutorial can be helpful—he has since realized that music will get people coming back, especially if it's a big name who's doing the playing. "Artist content is where it's at," he says. "Not a lot of people are searching for Dave Koltai. But famous artists … it's so much more interesting to see someone playing with your gear."
And while a few Pigtronix videos top five or six minutes, most are under three, and many are less than a minute. "It's the James Brown theory—it's gotta rock from the start," he says. "The best part has to be in the first 10 seconds and you have to end it before people get bored."
Before it's here, it's on the Bloomberg Terminal.
LEARN MORE