Book Review: 'American Canopy,' by Eric Rutkow
America has long swayed between exploitation and conservation
Tal McThenia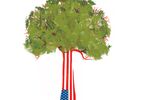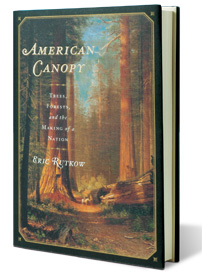 American Canopy:
Trees, Forests, and the Making of a Nation
By Eric Rutkow
Scribner; 416 pp; $27.50
 
In 1852, a California hunter chased a wounded bear into a stand of trees bigger than any European-American had ever seen. Thirty feet wide at the base, with trunks stretching hundreds of feet into the sky, these trees are now called giant sequoias, and they were sensational from the start. Across the country, doubters and believers alike clamored to see a specimen for themselves, prompting intrepid businessmen to descend upon the grove, armed with axes. As the big trees were felled and sliced up into worldwide traveling sideshows, the site itself became a tourist attraction, with one massive stump converted into an outdoor dance floor, wide enough for a band and 32 dancers. Meanwhile, more forward-thinking citizens worried that all the region's big trees would soon fall to commercial interests, and after a decade of lobbying, President Lincoln signed into law the Yosemite and Big Tree Grant, which ensured that the Mariposa Big Tree Grove, as well as nearby Yosemite Valley (which Teddy Roosevelt would later expand into a national park), would forever belong to the public for "use, resort and recreation." It was the first-ever mandate for federal protection of natural resources.
This is one of many instances in which reckless or responsible exploitation is pitted against naive celebration and impassioned conservation, a 400-year-old tension at the heart of Eric Rutkow's richly distilled cultural history of our woods, American Canopy: Trees, Forests, and the Making of a Nation. Trees, Rutkow suggests, have shaped our national character for better and for worse, and looking back at our fraught relationship with the forest offers insight into a clash of values that persists today. For some, trees remain foremost a commodity, as well as an engine for jobs and industry. Others have prized the woods as a spiritual sanctuary or a symbol of American greatness. Others still have defended them as a wildlife habitat and the source of clean air and water.
Before all that, the earliest European settlers quickly conquered their fear of the forest, and thanks to its variety and ubiquity, North American wood became the foundation for a blossoming new economy. Massive New England white pines formed the masts for the Royal Navy's ships, their hulls sealed with pine pitch. Poplar pulp replaced cloth rags and brought paper and print to the masses. Brawny chestnut and white oak were felled for railroad ties, usually just one tree per tie, 2,500 ties per mile of track, and at peak consumption, 60 million ties in a single year. Hand in hand with prosperity came profligacy. America's original energy addiction was wood.
Most Americans awakened to the treasure of their wilderness only as the timber barons were snatching the last of it up. Readers may know of 19th century naturalist John Muir and his role in the creation of the national parks. Fewer have heard of Gifford Pinchot, the founder of American forestry, who brought millions of acres under government control and popularized the decidedly moderate vision of forests as a resource, not just to be exploited, but conserved and renewed. The near-forgotten laughingstock of the New Deal, "Shelterbelt" was FDR's ambitious plan of tree planting to revive the Dust Bowl, derided by political critics as a government boondoggle (Solyndra, foreshadowed), but, in hindsight, remarkably effective. And then there is the startling tale of the Army takeover of the Pacific Northwest timbering industry during World War I, an effort to ensure ample supplies of Sitka spruce for Allied airplanes: a rare moment of military, labor, and industry coming together for the national interest.
As passionate as the author is about trees, American Canopy is not an activist's rallying cry, in the vein of Rachel Carson or Michael Pollan. Rather, it's an even-handed and comprehensive history that could not be more relevant. In March 2012, the U.S. Forest Service finalized its new planning rule, the first update in three decades. After years of input from environmentalists, industries, and the public, the Forest Service boasts that the new rule provides greater local flexibility over forest management and balances a variety of uses, like timbering and recreation. Environmentalists seem pleased with the rule's emphasis on watershed protection, but some protest that it weakens the requirements for protected wildlife. Even critics, however, concur that the regulation is the epitome of moderation—a refreshing reminder, in this era of polarized politics, that forests can be a place of shared values.
Far less encouraging is the "roadless release bill," a current Republican-led effort to gut the Clinton-era "roadless rules," which withstood their final court challenge last fall. "Millions of acres of land across the United States are being held under lock and key unnecessarily," co-sponsor Representative Kevin McCarthy (R-Calif.) says. While politicians' claims that roadless rules kill jobs certainly resonate with unemployment stubbornly high, these claims are under-supported by facts. What's more, those seeking to undo the roadless bill tend to emphasize short-term profits for timbering and mining interests but overlook long-term income from tourism and outdoor recreation. In many ways, the "roadless release" effort is part of a long-standing American tradition of hostility to government intervention, the same ideology that informed Western lumbermen's opposition to the creation of national parks in the late 1800s.
Impassioned objection to roadless release, coming from sportsmen, outdoors enthusiasts, and environmentalists alike, is rooted in another ideology, just as old. In 1876, Muir penned an editorial advocating government protection of all the giant sequoias: "Thousands of tired, nerve-shaken, over-civilized people are beginning to find out that going to the mountains is going home; that wilderness is a necessity; and that mountain parks and reservations are useful not only as fountains of timber and irrigating rivers, but as fountains of life." The woods, Rutkow's history reminds us again and again, are essential to our humanity.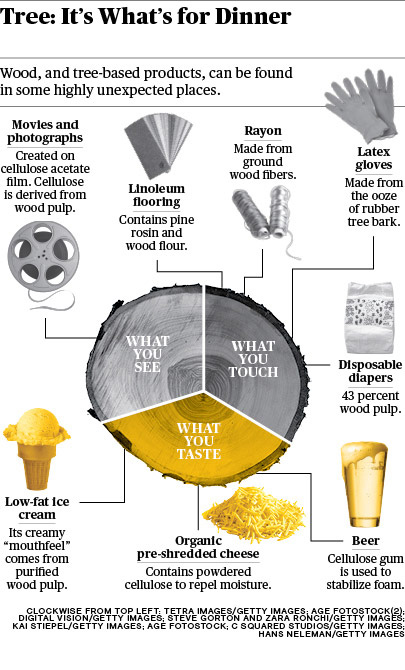 Before it's here, it's on the Bloomberg Terminal.
LEARN MORE