A Year in the Life of an ALEC Bill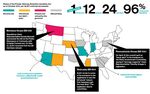 Last year state lawmakers introduced 154 pieces of legal-reform legislation based on 24 American Legislative Exchange Council model bills. One of the most popular was the Private Attorney Retention Sunshine Act, which would make it harder for states to hire law firms to, among other things, bring cases against businesses. ALEC has said that it acts as a library for its bills and does not lobby to pass them. Yet according to internal ALEC documents released by a whistleblower, ALEC commended the attorney-retention bill to legislators and tracked its progress as it moved through statehouses nationwide.
Before it's here, it's on the Bloomberg Terminal.
LEARN MORE