Kid CEOs: Teen Siblings Found 'Flipoutz' Bracelets
David Wescott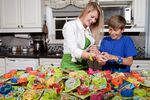 Traffic jams and sweltering weather usually make for unpleasant family car trips. The Johnson family of Charlotte, N.C., however, made the most of their time trapped in the car. Siblings Jake, 13, Lachlan, 16, and Erin, 18, are the entrepreneurs behind Flipoutz, a line of interactive bracelets made for kids.
"We came up with it on a long ride home from the beach," explains Lachlan, a junior in high school. "We were all bickering in the back seat, and in an attempt for some peace, my parents asked us to come up with a toy we'd like to have." So they killed time with a brainstorming session. "It turned into something so much bigger," she adds. Emily, their mother, laughs. "We didn't think we'd take it as far as we did," she says.

Part geotagging experiment, part social media immersion, Flipoutz bracelets come decorated with "personalized" coins that are bought, traded, and tracked online. According to the Johnsons, the coins are already traded on five continents. The bracelet owners can check the Flipoutz website to see where coins have traveled and read messages about them from previous owners.
Erin, now in college studying theater, suggested a coin emblazoned with "Peace for Music." Jake, a seventh-grader interested in soccer and acting (he played the young Ricky Bobby in Talladega Nights) contributed "Eat, Sleep, Play Soccer."
"We really are the creative team," says Lachlan. "I do pageants, so I made a princess coin. I also ride in rodeos, so I made a 'Cow Girl Up' coin." Their six-year-old cousin thought up the "Stud Muffin" coin.
Being a child entrepreneur is not without its drawbacks. Jake and Lachlan had to miss part of their school's "pajama day" to talk with Bloomberg Businessweek. The whole family missed Halloween, in 2010, to appear on the ABC game show Shark Tank, where aspiring entrepreneurs compete for investment capital.
"That was kind of a bummer," says Lachlan, referring to the missed the holiday. Their appearance on the show, while "nerve-racking," according to Jake, went well. The Johnson kids left Shark Tank with $100,000. "The kid [Jake] is a rock star," said judge and venture capitalist Kevin O'Leary.
In addition to an investment from their parents and their Shark Tank winnings, Flipoutz's young entrepreneurs have deals with the online store Wild Creations, in South Carolina, and the Omega Group, a PR and advertising company in New York. The bracelets are manufactured in factories in China. Their sales are highest, according to the young entrepreneurs, at independent retail stores around the Southeast. Their most popular item is their tie-dye bracelet, but sports-themed coins are also very popular. Emily says that Flipoutz hopes to turn a profit in about a year and a half.
While the Johnson family juggles soccer practice and schoolwork with business trips, festivals, and trade shows, they are devising more ideas. Emily says that Flipoutz is working with an organization that coordinates student pen pals around the world as a part of their effort to internationalize the online connections. They're cultivating partnerships with companies in the Netherlands and Brazil. They are also pitching a new TV show based on the Shark Tank reality game show model.
"We would have a panel of kid entrepreneurs and have other kid entrepreneurs come on with their products," says Jake.
Lachlan, who is looking forward to starting college in another year and a half, hopes she will stay active to the business. Still, the kids know not to bring up business ideas at the dinner table.
"We're siblings," says Jake, "and though we have our moments, we try to keep our business life and our family life separate."