Is Europe's Weakness Finally Reaching Germany?
Unemployment ticks up in the bastion of austerity
By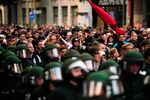 The news out of Nuremberg, Germany, today that the number of unemployed Germans unexpectedly rose in April could have big implications for the rest of Europe.
Exhibit No. 1 for Germany's pro-austerity case is the strength of the German economy. "See," the Germans' message goes, "we are keeping our belts tight and our economy is still strong. Follow our example." If Germany weakens, it would have two conflicting effects—hurting the rest of Europe by decreasing Germany's demand for their products, but possibly helping the rest of Europe by making Germany more sympathetic to the need for stimulus to restore growth.
In truth, Germany hasn't even embraced the austerity it urges on other countries, because it hasn't had to, says Steven Kyle, an economist at Cornell University's Dyson School of Applied Economics & Management. Economic growth has produced enough tax revenue that spending cuts have not been needed to keep the federal budget in rough balance.
"What will be interesting now will be to see if they will take the medicine they've been urging everyone else to take and cut their own spending," says Kyle. "If they do, they will get a contraction."
Germany's economy remains robust, to be sure. The unemployment rate is still 6.8 percent, a two-decade low. But the number of people out of work increased a seasonally adjusted 19,000, to 2.87 million, the Federal Labor Agency in Nuremberg said today. A survey of 34 economists by Bloomberg News had generated a median forecast that unemployment would decline by 10,000.
An excerpt from the Bloomberg News story by Brian Parkin:
"What we're noticing is that companies are hesitant to take that very last step in their hiring intentions," Raimund Becker, one of three agency board members, told reporters in Nuremberg. "They want to hire but are hanging on, and that's being caused by the crisis. The uncertainty is there."
Germany has grown in part through exports, 40 percent of which go to other euro-zone nations and 60 percent of which stay in the European Union as a whole. It's impossible for all euro zone countries to enjoy trade surpluses with one another, so the German model can't possibly work for all of the zone. And it may not work much longer for Germany itself, if a recession in other countries dampens their demand for German goods.
Demonstrating Europe's plight, the statistics agency Eurostat announced separately today that euro-zone unemployment rose to 10.9 percent in March, the highest in almost 15 years and almost double Germany's rate of 5.6 percent. (Eurostat's measure of German unemployment is different from Germany's own because of a difference in methodology.)
Before it's here, it's on the Bloomberg Terminal.
LEARN MORE