China's Blind Activist Exits Embassy, Fate Uncertain
By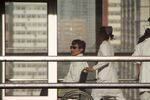 A U.S. and China deal over the fate of blind legal activist Chen Guangcheng, who took refuge in the U.S. Embassy in Beijing, at first appeared to have averted a major diplomatic clash. Now reports are emerging that the 40-year-old self-trained lawyer fears for his safety and that he now wants to leave China with his family.
On May 2, Chen departed the U.S. Embassy, at which he had taken refuge for six days, after Beijing reportedly gave assurances for his safety. That came just one day before scheduled bilateral talks on trade, currency, and security—including the thorny issues of Syria and North Korea, scheduled for May 3 in Beijing. Chen's flight to the U.S. Embassy came after the former police chief of disgraced Chongqing party leader Bo Xilai apparently sought and was refused asylum in a U.S. consulate in southwestern China earlier this year. "I'm free. I've received clear assurances," Chen said in a phone call to his lawyer shortly after leaving the U.S. Embassy.
U.S. Secretary of State Hilary Rodham Clinton, who arrived in Beijing on May 2 for the so-called Strategic and Economic Dialogue with China that runs through Friday, spoke by phone with the 40-year-old Chen as he drove to a Beijing hospital with U.S. Ambassador Gary Locke. Chen, who was to receive treatment for injuries sustained during his earlier escape from house arrest, was reunited with his wife and two children. Clinton, who is accompanied by Treasury Secretary Timothy F. Geithner for the Beijing bilateral meetings, released a statement saying the Chinese government has agreed to allow the self-trained lawyer "to pursue higher education in a safe environment," while the U.S. government will remain "engaged" with Chen.
"I am pleased that we were able to facilitate Chen Guangcheng's stay and departure from the U.S. embassy in a way that reflected his choices and our values," Clinton said. "Mr. Chen has a number of understandings with the Chinese government about his future, including the opportunity to pursue higher education in a safe environment. Making these commitments a reality is the next crucial task. The United States government and the American people are committed to remaining engaged with Mr. Chen and his family in the days, weeks, and years ahead."
Beijing, for its part, demanded an apology for the U.S. handling of the incident on the same day Chen emerged from the embassy. Both Washington and Beijing had avoided commenting on Chen's whereabouts previously. "China is very unhappy over this. The U.S. action is an interference in China's internal affairs and China cannot accept it," said foreign ministry spokesperson Liu Weimin on May 2, as reported by the official Xinhua News Agency. "China demands that the U.S. apologize and thoroughly investigate this incident, deal with the people who are responsible and ensure these types of incidents do not occur again."
Phelim Kine, senior Asia researcher at New York-based Human Rights Watch, dismissed the foreign ministry statement as "quite pro forma," saying it suggests both sides want to "minimize the inflammatory rhetoric." Kine added: "After a week of furious negotiations, the Chinese government and U.S. government have brokered this agreement that allows minimum mutual face loss."
But that was before the Associated Press reached Chen for a late night interview Wednesday from his hospital bed. Chen said "that U.S. officials told him that Chinese authorities would have beaten his wife to death had he not left the American Embassy," the Associated Press reported. "They said if I don't leave they would take my children and family back to Shandong," Chen was reported saying.
A State Department spokeswoman denied that U.S. officials passed on information about any physical or legal threats from Chinese authorities to Chen. "Nor did Chinese officials make any such threats to us," Victoria Nuland said in a statement. Bloomberg reports:
U.S. interlocutors did make clear that if Chen elected to stay in the U.S. embassy in Beijing, where he sought refuge, Chinese officials had indicated that his family would be returned to Shandong and they would lose their opportunity to negotiate for reunification, [Nuland] said. "At no point during his time at the embassy did Chen ever request political asylum in the U.S.," she said. "At every opportunity, he expressed his desire to stay in China, reunify with his family, continue his education and work for reform in his country. All our diplomacy was directed at putting him in the best possible position to achieve his objectives."
Bob Fu, president of the Texas-based ChinaAid Association, said in an emailed statement: "We are deeply concerned about this sad development if the reports about Chen's involuntary departure (from the U.S. Embassy) is true."
Chen had been under house arrest in his family farmhouse in eastern China's Shandong province for almost two years, watched over by thuggish police and other local officials angered by his 2005 campaign against forced abortions carried out under China's one-child policy. Now even if Chen does decide he wants to remain in China, as original reports had indicated, many unanswered questions remain, including where Chen will pursue his promised studies and how his safety will be guaranteed.
"The devil is in the details in this deal," said Human Rights Watch's Kine. "First, the safety and well-being of Mr. Chen and his family, friends, and supporters are very much at risk in China. It is absolutely essential that this quote-unquote location really is safe and secure," he says, adding that Chen's safety could be threatened by "rogue government officials and security in Shandong, who are extremely motivated to seek reprisals."
And even if local officials are prevented from seeking retribution against Chen, there is danger he will run afoul of authorities in Beijing. "Chen Guangcheng is someone who is extremely strong in his beliefs in social justice, rule of law, and freedom of speech. And those three elements are very much under attack in China today," said Kine.
Before it's here, it's on the Bloomberg Terminal.
LEARN MORE