Slowing Sales Show Small Business Needs Help
Scott Shane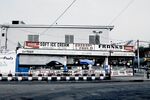 Small business owners have been complaining that poor sales are their No. 1 problem (PDF) since the early days of the Great Recession. And business advocacy groups on the left (PDF) and the right have been pushing Washington to help. How urgent are pleas for reduced regulation (PDF), better access to capital (PDF), tax cuts (PDF), and the like? Are sales really that bad?
At first glance, the data suggest that small business owners should stop griping. The new monthly Intuit Small Business Revenue index, which is based on data from 200,000 small companies that use QuickBooks Online software for financial record keeping, reveals that average revenues are up 9.5 percent since the recovery began. (For purposes of the index, Intuit defines any QuickBooks user as a small business.)
Moreover, the pace of sales growth from the recovery's inception until February 2011 was actually higher than the pace of revenue growth in the year and a half preceding the recession. (The annual rate of growth was 4.6 percent, vs. 4.2 percent.)
Whether small business sales are weak or not is more than an academic question. The Republican leadership has made helping struggling entrepreneurs a central part of this year's presidential campaign. Claiming that the Obama administration isn't doing enough, they recently pushed a $46 billion small business tax cut through the House.
The bill, which offers income tax deductions of up to 20 percent to companies with fewer than 500 workers, is not expected to make it through the Democratic-controlled Senate. Failure in the Senate will allow the Republicans to claim that the Democrats aren't doing enough to help small business owners in their time of need.
Last week, I pointed out that many people perceive small business job growth as weak because small employers aren't adding jobs fast enough to quickly reverse the negative effects of a deep downturn, even if they are adding jobs faster than big businesses. The sales data show a similar pattern.  While the numbers are positive, they're not strong enough to reverse the hit that small companies took during the Great Recession, and are now weakening.
A closer look at the Intuit data reveals the depth of small business owners' sales problem and supports demands for help. Despite significant growth during the recovery, the data reveal that small business sales still haven't completely recovered from their 9.7 percent drop during the downturn. Four and a half years after the Great Recession began, they're currently 1.1 percent below where they were before the economy went south.
That figure might understate the slow revival. Just to have kept up with inflation, small business sales would need to be 11.1 percent higher now than in December 2007. And they're no longer growing as rapidly as they were at the beginning of the recovery. Intuit's index shows that since February 2011, sales growth has slowed to a rate of only 1.6 percent per year, compared to 11.2 percent in the year and a half before the housing bubble burst.
The recent Republican tax bill might be the wrong answer to the problem of poor small business sales. As Howard Gleckman, who blogs for the Tax Policy Center, a joint venture of the Urban Institute and the Brookings Institution, explains in a recent post, the temporary tax cut won't do much to change fundamentals. It will provide little more than a windfall for eligible companies.
However, the Republican Party's desire to respond to complaints about poor sales makes sense. Small business sales remain well below pre-recession levels in inflation-adjusted terms, and are currently growing at an anemic pace. Policy makers might not be able to get them back to housing bubble-juiced levels, nor should we necessarily want them to. But they have to pay attention to the numbers.  Helping small business is a more effective strategy than tempering expectations.
Before it's here, it's on the Bloomberg Terminal.
LEARN MORE