Mapping the Summer Camp Business
by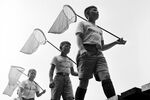 On May 15, Jeff Cheley will leave Denver and drive 75 miles up into the Rocky Mountains to prepare his family's 91-year-old summer camp for the season. About a month later, the fourth-generation owner will welcome 500 campers to the 1,400-acre camp his great-grandfather Frank founded so boys and girls could hike, fish, ride horseback, and experience "the foundation for all that is big and fine in American life and character."
Cheley Colorado Camps brings in about $4 million annually and its property on the edge of Rocky Mountain National Park is "very valuable," says Cheley. While he acknowledges camp operators can make a good living, he says running a camp is "not about the money; it's about the relationships and families we've connected with for 80 or 90 years."
For aspiring entrepreneurs dreaming of starting or buying a summer camp, it's easy to understand the allure. A well-run camp can have profit margins in the 25 percent to 40 percent range and sell for 2 to 2 1/2 times' annual revenue, says Daniel Zenkel, a camp consultant and broker in White Plains, N.Y. Camps can cost from $200,000 to $500,000 to set up and maintain, depending on the size and program, excluding buying or renting property. Existing camps start at around $1.2 million, Zenkel says. "We get calls all the time from people thinking about starting a camp. Either they've inherited property or they've inherited money and want to buy property for a camp."
Of course, owners likely won't be lounging all day reading Thoreau in a hammock in a breezy meadow. Camp directors are on the job pretty much 24/7, ensuring campers get fed, have fun, and stay out of trouble. Long-term concerns include state and local regulatory compliance, the ever-rising cost of business, property, and health insurance, and the hiring and management of seasonal employees who have to meet strict background checks.
Finding a profitable operation for sale is not easy. Second-, third- and even fourth-generation ownership is not unusual for the privately owned, for-profit operations that make up 21 percent of the membership of the American Camp Association, says Peg Smith, chief executive officer. The remainder of the association's 2,300 members are owned and operated by churches, schools, and other nonprofit entities; Smith estimates there are a total of 12,000 to 15,000 camps in the U.S. "So many camps have had a long tradition of family ownership," she says. "So you see a lot of succession planning taking place" to keep camps in the family.
As families cut back during the Great Recession, revenues in 2008 and 2009 dipped by 15 percent to 25 percent at specialty summer camps, which offer city-based, weeklong programs focused on subjects like tennis or drama; more traditional month- or summer-long wilderness camps did better, dipping only 3 percent to 5 percent, says Zenkel. Most camps have gotten enrollment back up to pre-2008 levels, and "in many cases they are doing better than they did before the downturn," he says. "The economy is better now, and people who weren't sending their kids to camp now can afford to do so."
Competition from newer, more academically-focused programs has shaved enrollment at Camp Thunderbird in Bemidji, Minn., by 10 percent to 20 percent over the past decade, says Shari Sigoloff. A third-generation camp director, Sigoloff and her husband bought the camp, which offers traditional activities such as arts and crafts, biking, and backpacking, from her parents in 2008.
They focus on Thunderbird's 6,000 alums, aiming for families who want their kids to unplug from electronic gizmos and experience the outdoors. "It's a different sort of child we're dealing with [today], but given the opportunity, we find that kids still want to go out and play," says Sigoloff, who charges $8,150 for an eight-week session.
Building a financially sustainable camp can be difficult, particularly for owners who lease facilities and hire or form partnerships with big-name coaches or instructors to appeal to parents interested in padding their children's résumés on college applications. "It's a challenge in this business to get to economies of scale," says Andy Wexler, 42, who started in the camp business when he was 19.
Wexler says enrollment is up 30 percent at Pali Adventures, his Southern California camp where kids choose among 16 activities, including learning to be rock stars or do film stunts. Enrollment dipped in 2008 and was flat in 2009, he says, but his business grew because of the outdoor educational programs and parenting websites he runs year-round. He estimates annual revenue from all his ventures at around $10 million. "Because we have some infrastructure in common and multiple sources of revenue, we can really hire professionals. And if we have a bad month in one place, we can make up for it in another," Wexler says.
Newer camps focusing on college prep, academics, or sports that operate on college campuses are easier to start or buy into, according to Zenkel, simply because they do not require large tracts of land in pricey resort areas. And while they are usually not as profitable, their owners typically find additional sources of revenue during the off-season, either from side businesses or weekend operations.
Husband-and-wife team Julian and Tina Krinsky, co-founders of 35-year-old Julian Krinsky Camps and Programs, used the savings in overhead to expand to 20 programs, ranging from cooking to entrepreneurship, that serve 5,000 children at college campuses around Pennsylvania. They also own tennis clubs, a camp staffing business, and a real estate company; together the ventures bring in about $12 million annually, Tina says.
On average, her campers pay $1,500 a week, many coming from overseas for an introduction to American college campuses. "Our business program has attracted children of families that are very wealthy," Krinsky says. While their high school might not have a business program, at camp they can compare notes with their peers about who is "using their bar mitzvah money to buy their first properties," she says.
Before it's here, it's on the Bloomberg Terminal.
LEARN MORE