Intel's Help Brings the Web to In-Store Shoppers
Retailers add kiosks, signs go digital and vending machines get connected
by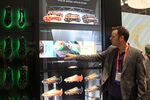 About five years ago, Intel needed only retailers' attention when it tried to sell chips for use in machines at checkout counters.
Now the opportunity for Intel to sell technology to stores has grown threefold to fivefold, says Chris O'Malley, the company's director of retail marketing. Since retailers and food companies started adding digital signage and kiosks, O'Malley has been attending such events as last week's vending-machine trade show in Las Vegas, wooing companies that might use Intel processors or intelligence.
"We used to always just be chips and chipsets," O'Malley says. "Now there's just been an explosion of this digital experience and we really need to help architect it."
Intel has contributed to products such as a touch-screen cooking game for HSN's Wolfgang Puck and a machine for Kraft Foods that gives out Jell-O taste tests (only to adults). They're joining technologists from Cisco to Cantaloupe Systems in signing companies that want to bring the benefits of the Internet into live shopping outlets.
Retailers have been forced to cut down on the number and size of their stores as shoppers migrate to e-commerce, says Eric Mauriello, senior vice president of touch technology at New York-based Possible Worldwide, which works with Intel on devices. One example is the so-called endless-aisle screen, which lets in-store shoppers search online for items. Such interactive technology can help ensure that customers find the items they need at the store, rather than giving up to search the Web from home.
Possible Worldwide designs software and hardware for interactive in-store technology, often in partnership with Intel. The two collaborated on the Wolfgang Puck screen, which prompts customers to work on a pizza—tapping tomatoes to smash into a sauce as they hear encouraging one-liners from Puck. The game—still just a prototype—involves Puck's products, giving users an opportunity to buy them after they play. Intel also helped department store Macy's create touch-screen kiosks known as Beauty Spots, at which customers can shop for makeup and beauty-care products without a salesperson.
"Intel understands more than anyone else that this is the next frontier," Mauriello says. "Retail is just starting to commit to these things."
Intel's interest in retail is part of a broader push to get its microprocessors into new markets, lessening its dependence on the personal computer market, which provides more than 90 percent of its revenue. To demonstrate how Intel's chip technology would work in new industries and thereby speed its adoption, the company's engineers build reference designs and contribute software to device makers working in these new markets.
O'Malley switched from another position at Santa Clara (Calif.)-based Intel about three years ago, when the company began moving people to its retail team. This was O'Malley's first year at the vending show and he likes what he saw: a Coca-Cola machine with an interactive touch screen and more than 100 soda selections, as well as a Red Bull energy-drink machine that lets consumers pay via smartphone.
Most vending machines run on systems that can't be networked or connected to USB ports, says Michael Kasavana, a Michigan State University hospitality-business professor endowed by the National Automatic Merchandising Association. Retailers will look to companies such as Intel for tech support in the vending machine of the future, which will accept money after an order, instead of before one, he says.
"It doesn't make sense right now that you pay and maybe don't get what you want—and then have to shake the machine," Kasavana says. "With digital screens, customers will be able to put items in a shopping cart and pay for them all at once."
They'll also be able to play games, send food to others, or get personalized service, he says. Companies will make an upfront investment in the technology with advertising budgets because over time, it can engage more people than a coupon campaign, O'Malley says.
Beyond processors, Intel has been employed for technology that remotely manages digital machines or software that monitor a user's gender, age, and length of time they have view digital sign.
"People don't think of Intel like this, but this trend is exploding right now," O'Malley says. "At the vending show, people were saying: 'Now it makes sense for you to be here."'
Before it's here, it's on the Bloomberg Terminal.
LEARN MORE