B-School Twitter Roundup
Alison Damast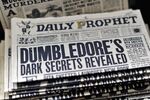 This week's Twitter roundup of happenings in the business school world includes the winner of the world's largest international case competition, an original B-school musical, and a rising media mogul who got his start building a Harry Potter website.
Students from Duke University's Fuqua School of Business put on the school's first originally produced musical, which chronicles the journey of MBA students from orientation to graduation (@DukeFuqua, 4/26).
Rutgers Business School tweets about some of the most popular MBA jargon (@RutgersBSchool, 4/27).
An inside look at how an MBA intern from University of British Columbia's Sauder School of Business helped one of Canada's fastest-growing technology companies launch a product (@UBCMBA,  4/27).
Teams from NYU Abu Dhabi, Hult International Business School and Carnegie Mellon University win the top prizes at the Hult Global Case Challenge in New York (@hultglobalcase, 4/27).
Former Soviet President Mikhail Gorbachev visits the Thunderbird School of Global Management to discuss global leadership (@thunderbird, 4/28).
Emerson Spartz, 25, an alum of University of Notre Dame's Mendoza College of Business and founder of mugglenet.com, the popular Harry Potter fan website, now runs his own media company, Spartz Media, (@NDBusiness, 4/25).
Santa Clara University's Leavey School of Business will host a business plan competition seeking ideas specifically for the baby boomer generation (@AlanaTweets, 4/30).
Julia Michienzi, a member of the MBA admissions team at the University of Western Ontario's Richard Ivey School of Business, blogs about the pros and cons of a one-year MBA program vs. a two-year program (@iveymba, 4/27).
Second-year MBA students in the leadership-immersion course at University of North Carolina's Kenan-Flagler Business School produce a series of videos on the school's core values (@DeanJimDean, 4/24).
Justin Bieber, Twitter co-Founder Jack Dorsey, and actor Ed Burns win the Tribeca Film Festival's Disruptive Innovation Awards, which took place this year at New York University's Stern School of Business (@NYUStern, 4/30).
Before it's here, it's on the Bloomberg Terminal.
LEARN MORE