The Demise of the Business Façade
Kevin Allen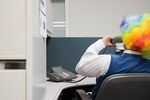 A case was made recently that authenticity at work has no bearing on life satisfaction. The article ("It Doesn't Pay to Be Yourself at Work,") backed with research from the University of Houston and the University of Greenwich, has sparked a firestorm of debate questioning the merits of workplace authenticity, or lack thereof.
Comments range from cautioning against workplace authenticity—"If we are all "authentic" and "ourselves" at work, then … The Office would turn into reality"—to other remarks accepting their plight: "I'm very familiar with putting on my 'nice face' when I'm at work. It's expected."
I tend to favor reader Tom Gimbel's thinking: "Companies that attempt to squash individuality and prohibit employees from being genuine are truly behind the times."
The shadow of the "organization man" can be seen in leadership across industries and in businesses large and small. Perpetuated by an unspoken—and sometimes actually spoken—set of rules, emotion is shunned and authenticity is scarce. In essence, we have detached our "business selves" from the truth of who we are as individuals.
With 25 years experience pitching, and winning, some of the top advertising accounts, I can attest to the value of authenticity in business. Our now iconic "Priceless" ad campaign for MasterCard failed its market test. MasterCard ignored that result and awarded us the account based purely on a belief that we had an authentic desire to best Visa in the market, which we made no effort to mask.
Counter to conventional wisdom, authenticity and the truth of who you are at your core is actually what draws people to you. It is what wins new business, lands the job, and galvanizes organizations.
Before it's here, it's on the Bloomberg Terminal.
LEARN MORE