Mystery and Rumor Dominate China in the Time of Bo
By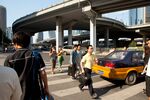 On a rooftop bar in Beijing, a twenty-something sips a raspberry Margarita and dishes the latest dirt on the scandal that has gripped China's capital, if not most of the country. "I've heard the police and the military are supporting two different factions [vying for political power]," she says.  "Lots of people who were close to [disgraced former city chief] Bo Xilai are being arrested in Chongqing." The next evening, a retired party member whispers conspiratorially: "Have you heard? Jiang Zemin has been spending time in Beijing," referring to the former top leader of China. Jiang lives in Shanghai and, although he retired almost 10 years ago, still is the most powerful player in China's byzantine politics. "He's making sure his people are O.K."
A taxi driver scowls when asked about the intrigue surrounding the upcoming leadership transition and the fate of Bo: "Those who are capable don't get promoted in China. Those who aren't, they are the ones who run this country," he says. "That's how our system works." A month earlier, a worried American investment banker called from his office in Shanghai to query a Beijing-based journalist: "I've been hearing that there is a coup happening up there and tanks and soldiers are on the street—I know this sounds crazy, but do you see any signs of that at all? My e-mail has been lighting up with worried clients asking about the coup all morning."
This is what it is like to be living in Beijing in the time of Bo. China is undergoing its biggest political crisis since the 1989 Tiananmen massacre, as wild supposition mixes with outlandish facts to shift the city's rumor mill into overdrive. Young Chinese in stylish bars, antsy American investors, civil servants, students, and entrepreneurs all swap stories of political backstabbing and collusion. There's a feeling of nervous anticipation for what lies ahead. The fact that no one seems to know how things will unfold makes the frisson only stronger.
It was already bound to be a time of heated gossip and innuendo. China is readying itself for a once-every-five-year Party Congress, when the country's Communist faithful converge on the capital to discuss what path to guide China along. And this one, likely to be held in October or November, will see an unprecedented shift in top leadership; seven of the nine-member supreme body that runs China, the Standing Committee of the Politburo, will be replaced. And a new party secretary and premier, expected to be Xi Jinping, 58, and Li Keqiang, 56, respectively, will take charge by early next year. But this one, the fourth Party Congress since I arrived in Beijing in early 1995, has seen the political machinations ratcheted to new heights.
That's because of the unprecedented downfall of Bo and his wife Gu Kailai, amid reports of corruption, money laundering, and the suspected murder of a British citizen. It all broke open after Bo's former police chief apparently attempted to seek political asylum in a U.S. consulate and pass along who knows what secrets concerning the inner workings of China's Communist Party elite. Now, for extra excitement, throw in the fact that blind human rights activist Chen Guangcheng, after fleeing the local thugs who had him under house arrest for the past year and a half, appears to have taken refuge with U.S. officials stationed in Beijing.
"On the surface China can have years of seeming tranquility. But you must not mistake that with the idea that it has harmonious consensus-based decision-making," says Victor Shih, a political scientist who studies China's elite politics at Northwestern University. "There is all kinds of maneuvering behind the scenes that only occasionally appears in public—which is what we are seeing with the recent incidents in China."
What is it about this political scandal that has so seized everyone's attention? Well, for the intelligentsia, entrepreneurs, state enterprise managers, civil servants, and the majority who have benefited in some way from the party's stewardship of China, this may be a turning point. That's because the implicit bargain they had with China's rulers has been ruptured.
It went something like this: Even though we don't have any say in policies nor get to choose our leaders, and we are well aware that many of them are corrupt, we can count on the fact they will control the worst excesses of official graft. They will keep the economy growing, and crucial to that, there will be no unpleasant surprises that could derail the course of getting richer. And in this key transition year, the party will anoint new leaders, perhaps equally unexciting ones, but certainly capable enough, to keep China moving forward.
There is plenty that China's elites are already worried about, making the prospect of instability at the top even more frightening. That includes surging protests by upset workers and farmers enraged at corrupt officials who grab their land for development. So-called mass incidents—riots, strikes, and protests—doubled in five years, to 180,000 in 2010, according to Sun Liping, a professor at Beijing's Tsinghua University. Last year's Wukan village uprising over land grabs and the death of a protester suggested to many that local party officials are losing control over their jurisdictions.
And the fact that China's wealthiest, including many corrupt officials, are increasingly opting for overseas citizenship for themselves or their family members, scares them, too. Last year more than 3,000 Chinese citizens applied for investor visas to the U.S., up from 270 in 2007. That's 78 percent of the total applicant pool for this type of visa, according to U.S. Citizenship and Immigration Services.
Now, with the fall of Bo and the intrigue that has followed, the elites are faced with the alarming fact that the party may not be as fully in control as advertised, and that deep divisions split top leaders. That infighting for the first time has burst into public view as officials and factions vied for influence by feeding rumors and calumny onto the Web. Then came the Xinhua announcement about the purported crimes of Bo and his wife. The interpretation of many: Oh my God, now they are telling us openly that top officials and their families are so brazen they can murder people, and they are far more corrupt than even we had imagined in our most fevered spells of paranoia.
"They have kept society stable by bribing the society, in effect by buying the people," says Jean-Pierre Cabestan, head of the department of government and international studies at Hong Kong Baptist University. "But how long is that sustainable now?"
China's disenfranchised farmers, workers, and urban underclass have a different reaction. Some of them see the political downfall of Bo as an attempt by the party to curtail the income-leveling policies he pushed in Chongqing. Those included China's largest push to build state-subsidized housing for the poor and reform of the hukou system to give farmers the same rights enjoyed by China's urbanites.
China already is showing levels of inequality comparable to the Philippines and Russia and is far less egalitarian than Japan, the U.S., and even Eastern Europe, according to Li Shi, a professor at Beijing Normal University. Rural incomes are less than one-third those in cities, with the top 10 percent of urban Chinese earning about 23 times that of the poorest 10 percent, according to official figures—and those are almost certainly understated. China's Gini coefficient—a measure of worldwide income equality—worsened from below 0.3 a quarter-century ago to near 0.5 today, estimates Li.
"As Chairman Mao said as he was building the nation, the goal of our building a socialist society is to make sure that everyone has a job to do and food to eat, that everybody is wealthy together," Bo said on March 9 during the National People's Congress, before his dismissal. "If only a few people are rich, then we'll slide into capitalism. We've failed. If a new capitalist class is created, then we'll really have turned onto a wrong road."
Much of the political ferment originates on China's unruly Internet, now with 485 million users and 300 million registered microbloggers. Despite its best efforts, including sophisticated monitoring software and legions of self censors at Sina and Tencent, the two biggest hosts of China's Twitter-like weibo, Beijing struggles to control what is posted online. Even the most remote villages usually have rundown Internet bars, often filled with choking cigarette smoke. And even those who don't have access to the net are recycling information that often first appeared in an online posting. "It is the first real elite political problem for China in the Internet age," says Bill Bishop, an independent analyst in Beijing who monitors China's media and Internet. "Sina Weibo is more powerful than [national state-owned broadcaster] CCTV in how the message gets out to the public."
The political intrigue gripping China "is incredible," says Duncan Clark, chairman of the British Chamber of Commerce in China. "It is the most interesting and alarming thing that has happened in the almost 20 years I have been in China. Who knows what will come next?"
Before it's here, it's on the Bloomberg Terminal.
LEARN MORE