ForumWatch: Rankings and MBA Applications
Francesca Di Meglio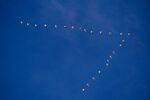 In the world of MBAs, it is a question as old as time, and there are as many responses as there are applicants. What role do various business school rankings (including those of Bloomberg Businessweek) play in an applicant's  journey to B-school?
Judging from the discussions that have gone on over the years on the Bloomberg Businessweek Business School Forums, rankings are significant for some people. They will not consider schools that are ranked out of the top 10. Others have said they think fit is more important than actual ranking. (And that is the standard advice doled out by most admissions committee members.) Still, many people use the rankings as a starting point for researching business school.
There is a lot of disagreement about how much relevancy the rankings should have in admissions and the application process. Recently, we posed the question to forum participants. If you'd like to share your opinion, visit the "How much do rankings count?" discussion thread.
Editor's Note: This blog post is part of a series about discussions taking place on the Bloomberg Businessweek Business Schools Forum, where prospective MBA program applicants, current students, and recent alumni trade admissions tips, job hunting advice, and the occasional barbed comment. We invite you to join these discussions or start one of your own.
Before it's here, it's on the Bloomberg Terminal.
LEARN MORE