Ernst & Young's A Capella Accountant
by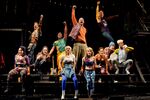 Corporations have long enjoyed the prestige—and tax breaks—that come with supporting the arts. But faced with tighter budgets, who can blame business leaders for funneling more money into such causes as lower dropout rates or training programs? The National Corporate Theatre Fund (NCTF) tries to woo corporate funding by focusing on theater as a brand-building opportunity—a chance to please employees, entertain clients, and support not-for-profit venues across the country. On April 30, Ernst & Young global chief Jim Turley will get a leadership award for his support of NCTF (which includes serving as its chairman for the past six years). Turley, whose firm employs 152,000 people, reflects on a life spent near the arts:
"I grew up in St. Louis. From the time I'm old enough to remember, I was lucky enough to go to musicals. They would come through the St. Louis Muny—a big outdoor theater—and I remember loving all the big shows. I was mostly into sports in high school, but I also got to be in a couple of plays. At one point they were short a man, so I ended up being the lead in a barbershop quartet in The Music Man.
"I got involved in the National Corporate Theatre Fund shortly after I moved to New York. I was out with the previous chairman, Irwin Engelman, and one of the first things his wife said was, 'Irwin, Jim was on the board of the Guthrie Theater of Minneapolis; you've got to get him on the NTCF board.' It's been a part of my life since.
"The next generation needs a lot of different types of learning. As a firm, we center our philanthropic and civic responsibilities around education, entrepreneurship, and the environment. This is squarely a part of education. Our push is to provide opportunities for underprivileged youth to get exposed to the theater. Not only are government funds drying up, but private giving is down. People who used to give to eight things have narrowed it down to three or four. It's starting to come back, and theaters are making themselves more accessible than in the past. You can do a lot of good for your own people, whether it's the tickets or programs where actors will stick around and talk to your team. We're trying to help them be more innovative in finding new avenues of support.
"I remember when the cast of Rent came to the groundbreaking for our offices in Times Square. After they sang a few numbers, the building owner at the time got up and said, 'No offense, but once Ernst & Young moves in, they'll be the star of Rent.' He was kidding, but someone's got to pay the bills.
"I spend a lot of my life talking to people. I've never frankly prepared too much because I have confidence that I'm not going to freeze up. Some of that is from sports. Some of it comes from theater. It adds up. We're all the accumulation of our life experiences."
Before it's here, it's on the Bloomberg Terminal.
LEARN MORE