Enemy of My Enemy: Microsoft Hearts Barnes & Noble
By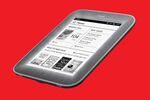 On Friday, Barnes & Noble was a dying big-box retailer in the point-blank crosshairs of multi-industry serial killer Amazon. A bookseller. With expensive square footage. And bathrooms. Why not just deliver milk to doorsteps?
On Monday, Barnes & Noble became the latest example of a lode that was mined for hugely valuable assets no one knew it had. Shares of B&N rose the most ever—up more than 80 percent, at one point—on the blockbuster news that Microsoft will invest $300 million in a new subsidiary that combines the bookseller's Nook digital reader and college businesses. Microsoft's investment entails what the companies described as "a post-money valuation of $1.7 billion in exchange for an approximately 17.6 percent equity stake." Barnes & Noble will own the remaining 82.4 percent of the new project. The zinger: All of Barnes & Noble is now worth $1.3 billion, less than the entire joint-venture with Microsoft. On Friday, B&N was worth $800 million.
Arbitrage craziness aside, why should anyone be at all shocked that this is happening? Last week, we got news that Amazon's Kindle tablet somehow sports a 54.4 percent share of the tablets that run Google's Android software—nearly twice where it stood in December, according to ComScore. That beats Samsung's Galaxy Tab, Motorola's Xoom, and scores of other gadgets that have rarely been spotted in the hands of a sentient human being.
In B&N's latest quarter, revenue from its Nook unit rose 38 percent, to $542 million; it has about 30 percent of the U.S. e-book market, vs. Amazon's 60 percent. Give credit to Brett Arends for being one of the first to realize you could jury-rig a Nook to get a cheap tablet experience. Microsoft is nowhere to be found in the tablet biz, which is pretty much all Apple iPad all the time.
Today's news reflects tech's prevailing World War I-style balance of power, where an enemy of your enemy is suddenly your best friend, especially if you're a hulking software maker that can easily afford to part ways with $300 million to assuage your insecurities over age and irrelevance. As the press release puts it, a Nook app for Windows 8 "will extend the reach of Barnes & Noble's digital bookstore by providing one of the world's largest digital catalogues of e-books, magazines, and newspapers to hundreds of millions of Windows customers in the U.S. and internationally." All the more reason for B&N and Microsoft to settle their patent litigation—the intellectual property equivalent of a flea fighting a mastodon.
Barnes & Noble put itself up for sale in 2010 following pressure from investor Ron Burkle. John Malone's Liberty Media invested $204 million in the company in August.
There's some really lucky timing in this story. Activist hedge fund Jana Partners disclosed a 12 percent stake in Barnes & Noble earlier this month. Value investor Whitney Tilson u-turned from being short B&N to buying it. On Friday.
Before it's here, it's on the Bloomberg Terminal.
LEARN MORE